Personal Flotation Device
A U.S. Coast Guard approved personal flotation device (PFD) is Required To Be Worn if you are boating, tube floating, or wading in river areas between
Buford Dam and the GA 20 highway bridge and
Morgan Falls Dam and the Morgan Falls boat ramp.
On all other river sections in the park, you must have a wearable, appropriately sized; U.S. Coast Guard approved PFD on board all watercraft, including float tubes and air mattresses for each person. All children under the age of 13 MUST WEAR a U.S. Coast Guard approved PFD when a watercraft is underway.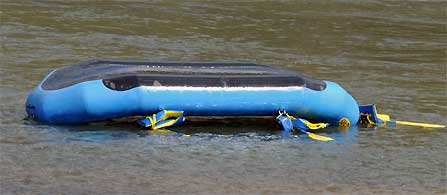 NPS Photograph/Robert Armstrong
Check The Flow
Always be cautious of rising river levels due to water releases from Buford and Morgan Falls Dams. Check the water release schedule before entering the river. Entering the river directly below a dam as water is released is very dangerous. Rising river levels further downstream may not be as dramatic and thus be just as deadly. For the Buford Dam water release schedule call 1-855-DAM-FLOW (1-855-326-3569) or 770-945-1466. For the Morgan Falls Dam water release schedule call 404-329-1455. Please visit our Downstream Flow Rate page for approximate times that it takes for river levels to begin to rise at various locations below Buford Dam.
Flash Floods
While not as frequent as the daily water releases from the dams, you must be aware that natural flash floods do occur on the Chattahoochee River. If you are on the river during a hard rain you would naturally expect for the river level to rise. How about those days when the skies remain sunny overhead all day but you see dark clouds nearby. Besides a sunburn you may soon be in a flash flood. Use common sense on days like this and be prepared to get off the river immediately.
Water
Bring fresh drinking water and non-perishable food or snacks. Drink and eat periodically to avoid dehydration and keep your energy levels high. DO NOT drink the river water as harmful levels of bacteria may be present! For additional information about the water quality of the Chattahoochee River and the BacteriAlert Program visit the Chattahoochee Riverway Project website at http://ga2.er.usgs.gov/bacteria/default.cfm.
Hypothermia
Water released from Buford Dam comes from the bottom of Lake Sidney Lanier and is approximately 50 degrees Fahrenheit. This cold water is great for trout, but dangerous for you. Beware of Hypothermia which is the severe lowering of the body's temperature. When exposed to these low temperatures, exhaustion or unconsciousness can occur in less than 30 minutes. If you fall into this cold water, get out quickly and warm yourself. Hypothermia can occur even in the warmest summer months.
Severe Weather
Watch weather and water conditions and head for shore if bad weather threatens. If lightning occurs, get out of the water, stay away from trees, and seek low shelter. Lightweight, quick-drying clothing is adequate in the summer. During cooler seasons wear clothes of natural and synthetic fiber blends. For cold weather wear wool or synthetic fibers -- they retain heat even when wet. Always wear appropriate footwear.
Diving
Never dive or jump in the river. There are dangers in the form of submerged rocks, murky water, and fluctuating water levels that can cause serious injury.
Lost
Know your planned fishing spots and tell others your plans. Paces Mill is the last take-out point in the park. It is located a short distance downstream from the I-75 Highway underpass on the West side of the river.
For Your Safety - Call For Water Release Schedule

Always be aware of rapidly rising river levels due to dam releases and storms. Read More

Think Before You Sink!

One life jacket per person is required for all watercraft including tubes, air mattresses, etc.!

For Your Health

Check the water quality on the Chattahoochee River. Read More

Eighth Annual Chattahoochee River Summer Splash

Make a big splash at the coolest free event of the summer, the Eighth Annual Chattahoochee River Summer Splash on July 25, 2015. Float in a boat and beat the heat on your journey of discovery down the Chattahoochee River. Read More