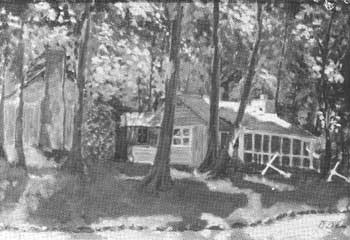 (Oil, undated, by Dwight D. Eisenhower, David H. Marx, Shrewsbury, N.J.)
At the close of World War II, there was some debate over the future of Shangri-La. Should it be returned to the National Park Service? Should it be maintained as a national shrine or monument? Should it be transferred to the Maryland State Forest and Park System, as was the original plan of the demonstration area? In a letter to Maryland Governor Herbert R. O'Connor, President Truman wrote:
"I have decided because of the historical events of national and international interest now associated with the Catoctin Recreation Area that this property should be retained by the National Park Service of the Department of the Interior. This action is in accord with the position expressed by the late President Roosevelt before his death."
In 1952, Truman approved a compromise under which the land north of Maryland Route 77 would remain Catoctin Mountain Park operated by the National Park Service and the land south of Maryland Route 77 would become Cunningham Falls State Park. The official transfer took effect in 1954. President Eisenhower renamed the retreat, after he took office in 1953, "Camp David," after his grandson.
Camp David continues to serve as the Presidential Retreat today. It is a private, secluded place for recreation, contemplation, rest, and relaxation. Many historical events have occurred at the Presidential Retreat; the planning of the Normandy invasion, Eisenhower-Khrushchev meetings, Camp David Accords with Menachem Begin of Israel and Anwar Sadat of Egypt, discussions of the Bay of Pigs, Vietnam War discussions, and many other meetings with foreign dignitaries and guests. Maintaining the privacy and secluded atmosphere of the retreat is an important role for Catoctin Mountain Park. The Presidential Retreat still remains within park boundaries, but is not open to the public. It is a place where Presidents can relax, unwind, contemplate, entertain distinguished guests in an informal setting, and cope with the pressures of modern-day society. We hope that you will also understand the value of a place of privacy for the President and accept that the retreat is not open to visitors.