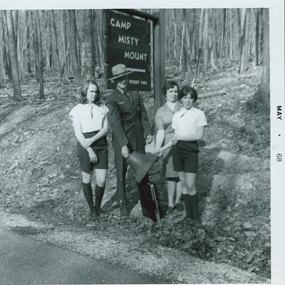 NPS Photo
In 1938, after the Maryland League for Crippled Children moved to Camp Greentop, the Salvation Army leased Camp Misty Mount that summer and for the following four seasons. So, how did Camp Misty Mount get its name? It is said that Mrs. Lt. Col. Harold Stout, the first camp director for the Salvation Army and whose cabin faced the mountains, noted how every morning when she awoke and went to the window, heavy mist covered the mountain top. From that point forward, she referred to it as Camp Misty Mount and the name stuck.
December 7, 1941. The bombing of Pearl Harbor brings the war to the United States and the Catoctin RDA. Camp Misty Mount was winterized in 1942 for use by the United States military while conducting year-round training. Marines bunked at Camp Misty Mount between 1942 and 1945 while serving as protection for the presidential retreat at another location in the park.
In later years, Camp Misty Mount was used for recreation and outdoor education by Washington County Public Schools from 1961 until 1978, and by the Boy and Girl Scouts.
Much of the rich history of the Catoctin Recreation Demonstration Area remains to this day. Camp Misty Mount, recognized as an historic district, has been listed on the National Register of Historic Places since 1989. It is preserved for you to enjoy and use today. Individuals and groups may experience history first hand by staying overnight in a cabin built with hope to restore a nation. The old growth forest may be gone but with careful stewardship and dedication, the second growth forest will continue to thrive.