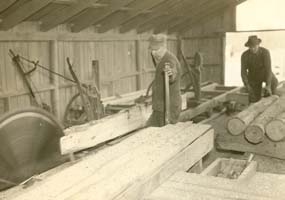 Park structures and facilities were built using the rustic arch style characteristic of National Park Service buildings of that era. The buildings were in harmony with nature, using natural colors and few straight lines. Horizontal lines were emphasized to blend in with nature and the settings. The rough stone and logs were characteristic of the structure in the local area. The local workers were familiar with the necessary construction methods and the materials used.
Initial construction utilized dead, standing trees. Only 40% of the logs could be used for boards. The remaining timber was hewn into logs, pinned with locust and fashioned into rustic cabins. Chestnut was the preferred building material. Red oak was rived into shingles. Interior siding was fashioned from chestnut, oak, or hemlock. Horses pulled the logs from the forest to prevent the soil from being compacted by tractors. Eventually, live trees were harvested for construction under the guidance of Maryland foresters.
The 125 men who began cutting timber and clearing for camps swelled to 500 by April 30, 1936. Peak employment was reached in May, 1936, when 595 men were employed, mostly as unskilled laborers. The number decreased to 250 workers of various skill levels who built the administrative area and cabins, ran the sawmill and built roads.