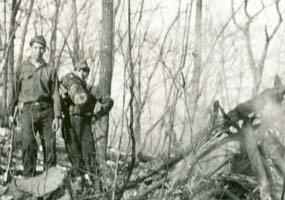 Project Director Mike Williams had developed plans for reforestation of the mountain. He requested that the Maryland Forestry Department provide 100,000 native trees of which a minimum of 25% were to be oak. The state was unable to provide these trees but Williams eventually secured 2,000 red maple and 2,000 pitch pine trees that were planted.
The CCC rehabilitated 800 acres of fields. Strips of lespedeza and grains were planted on the contours for the benefit of quail, turkeys, rabbits, and song birds. Forest encroachment was controlled by planting strips of grain along the edge of the fields. Soon, the diversity and numbers of wildlife increased.
Stream improvement projects on Big Hunting Creek and Owens Creek were initiated in 1939. Pools were deepened to provide cool water and cover for the fish. As a result, sport angling improved. Fishermen were pleased that the natural appearance of the stream was retained.
Native trees, that were obtained later in 1939, were planted to obliterate open areas created by construction and to reclaim old logging roads. In August, the corpsmen dug the water system for the visitor center, built the dry stone walls behind the building, built guardrails and landscaped the area. Director Mike Williams considered this project to be the finest work completed in the park.