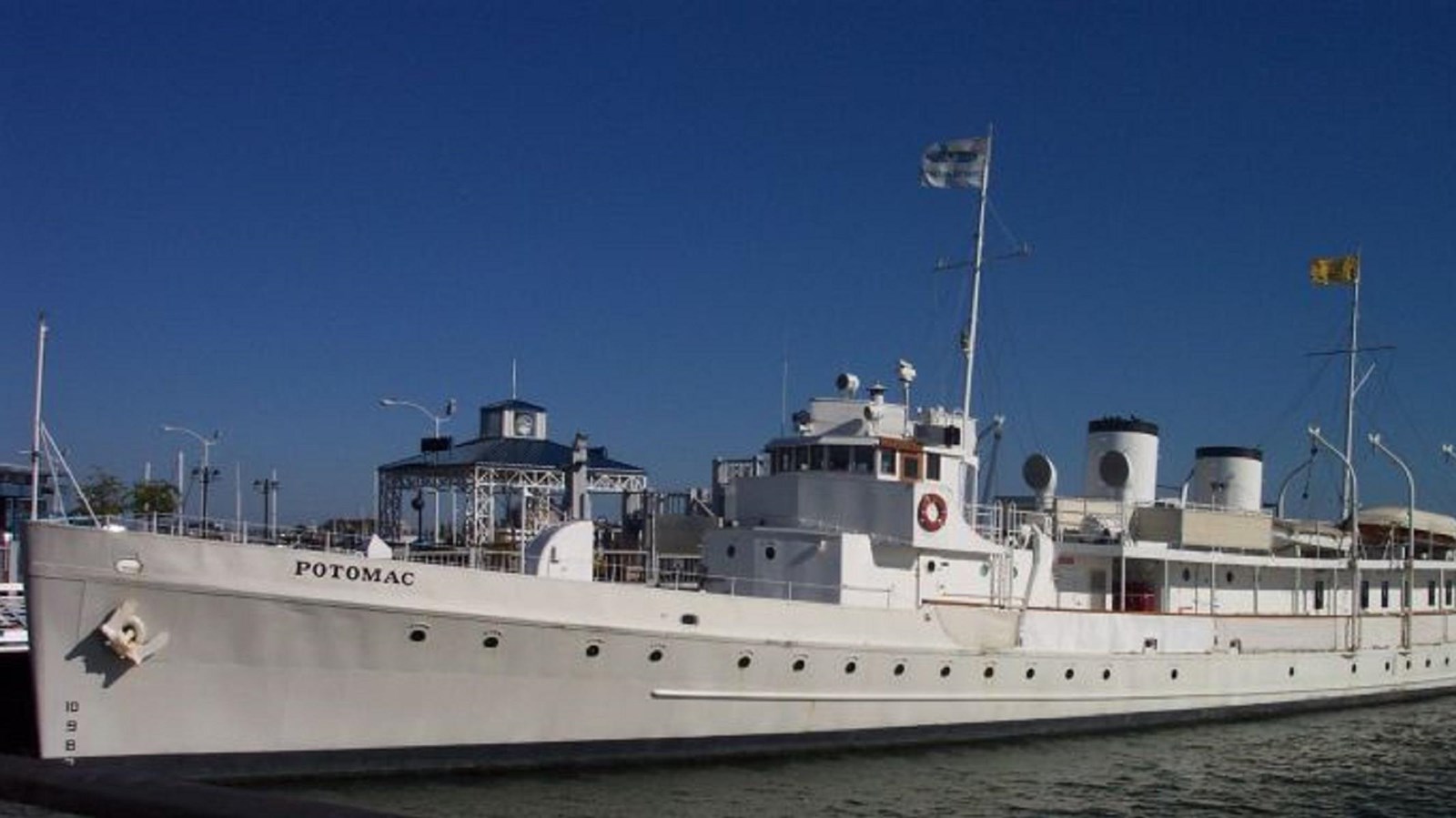 Location:
540 Water St., San Francisco, CA
Designation:
National Historic Landmark
The USS Potomac was built in 1934 as the Coast Guard cutter Electra. The 165-foot vessel, weighing 376 gross tons and cruising at speeds of 10 to 13 knots, was commissioned as a U.S. Navy vessel in 1936. It was renamed the USS Potomac and served as Franklin Delano Roosevelt's presidential yacht until his death in 1945. As former Assistant Secretary of the Navy, FDR had a deep love of the sea and the Navy tradition. During the sultry summer days in Washington, D.C., he preferred to cruise on the USS Potomac rather than stay in the White House. He loved holding informal strategy sessions with close advisors and congressional leaders in the privacy and seclusion of the yacht.

On Monday, August 4, 1941, four months before Japan's attack on Pearl Harbor, FDR boarded the USS Potomac ostensibly for a fishing trip and a visit to Martha's Vineyard. The President, however, was secretly transferred to the heavy cruiser USS Augusta the next morning bound for Newfoundland where he would meet with British Prime Minister Winston Churchill--their first meeting as Heads of State. During this top-secret rendezvous, the two world leaders forged the principles of the Atlantic Charter, which formed the Allied partnership during World War II and what Roosevelt called the "United Nations," to plan the post-war peace. With the United States' direct involvement in the war at the end of 1941, the president's recreational use of the USS Potomac came to an end. During World War II the vessel was used primarily as a naval sonar research vessel. Special transducers and motor generator units for the sonar equipment were installed.

After FDR's death in April 1945, the Potomac began a long and ignominious decline from its former role in world affairs. After many adventures and many owners--including Elvis Presley--she was seized in 1980 in San Francisco by U.S. Customs for her role as a front for drug smugglers. Towed to Treasure Island, the proud vessel's hull was pierced one night and she sank. Refloated by the Navy two weeks later, she was sold to the Port of Oakland for just $15,000. The Port of Oakland spearheaded a cooperative effort with organized labor, maritime corporations and dedicated volunteers to complete a $5 million restoration.

Opened to the public in 1995, the Association for the Preservation of the Presidential Yacht Potomac now operates this National Historic Landmark as an active memorial to Franklin Delano Roosevelt and the momentous times through which he led our Nation.

The USS Potomac a National Historic Landmark, is located at 540 Water St. near Jack London Square in Oakland. For further information visit the USS Potomac's website.

Discover more history and culture by visiting the World War II in San Francisco Bay Area travel itinerary.
Last updated: September 7, 2020