Change in Harkers Island Visitor Center Hours

The Harkers Island Visitor Center is open Sunday through Saturday from 9:00 a.m. until 5:00 p.m.
Morehead City Harbor Dredged Material Management Plan

Cape Lookout National Seashore is a cooperating agency in the Morehead City Harbor Integrated Dredged Material Management Plan being developed by the U.S. Army Corp of Engineers. The full plan draft can be downloaded from the following link. More »
Portsmouth Homecoming
The Friends of Portsmouth Island, in cooperation with Cape Lookout National Seashore, sponsor an old-fashioned homecoming in Portsmouth Village, south of Ocracoke, across Ocracoke Inlet. Homecomings are traditionally held in alternate years the first Saturday after Easter. The next Homecoming is set for
Saturday, April 26, 2014
Everyone is welcome!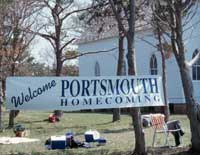 Traditionally, homecomings in the South are for the members of a particular church or family, but the Portsmouth Homecoming welcomes everyone. Usually, about half of the participants are first-timers. The village is open for visiting, and the program itself is followed by a traditional "dinner on the grounds."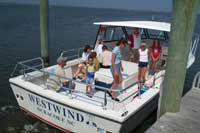 Getting to Portsmouth can be a challenge. Access is by water only and there are no hard surface roads on the island. Some people take the private vehicle ferry from the village of Atlantic, and then drive their four-wheel drive vehicles 17 miles up the beach to get to Portsmouth. Others arrive by their own boat. Most folks, however, catch the passenger ferry from the village of Ocracoke.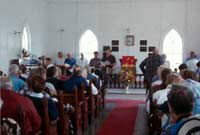 The homecoming service, traditionally held in the church, includes singing, special music, recognition of guests and other visitors, a short devotional, and good fellowship. Dress for the day is very informal; jeans are appropriate.
If you are planning on joining us for Homecoming, you will need to make your own reservations with the ferry service.
Information on planning a trip to Portsmouth, during Homecoming or at another time of year, can be found on the Visiting Portsmouth Village webpage.


Did You Know?

A lighthouse can be identified by its daymark (painted pattern) or by its light flash pattern. Cape Lookout Lighthouse has a diagonal checker pattern and a single short flash of light every fifteen seconds. Cape Lookout National Seashore More...