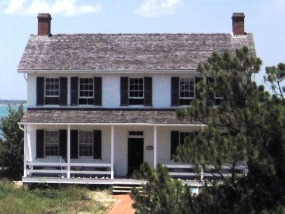 Second Keepers' Quarters (1873)
Soon after the second Cape Lookout lighthouse was completed, Assistant Keepers were assigned to the station. A new Keepers' Quarters was built in 1873 to accommodate these keepers. The house was designed as a single-family residence, but by the early 1900s, all three keepers were living in this building. In response to complaints that their families could not be with them, a new Head Keeper's Quarters was built in 1907. The two Assistant Keepers and their families then shared the 1873 dwelling.
Today, this Keepers' Quarters serves as a museum, giving visitors a glimpse into the lives of Lighthouse Keepers and Surfmen of the US Life-Saving Service. The museum is open from 9:00 AM to 5:00 PM, seven days a week during the spring, summer, and fall.