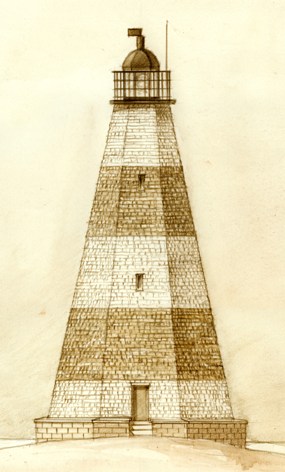 Building a Light
In 1789, Congress established the Department of the Treasury and gave control of the lighthouses built by the colonies to this department. The light station at Cape Lookout was authorized in 1804 and four acres of land were purchased from Joseph Fulford and Elijah Piggot the following February. But, the first request for project bids only received one offer. It would be several years before the first tower was completed.
A second request for bids was released on November 30, 1810. The following March, the project was awarded to Benjamin Beal, Jr.; Duncan Thanter; and James Stephenson. The lighthouse, oil vault, and Keeper's Quarters were completed in 1812 at a cost of $20,678.54 (that would be about $341,000.00 in 2010).
The project description called for an octagonal lighthouse with a brick interior, wood exterior, and stone foundation. It was to be built on a sand dune and rise 95 feet from the ground to the floor of the lantern room-107 feet in total height. By all indications, this designwas followed. However, the project called for the tower was to be painted with white and brown stripes while a 1847 record indicates that the stripes were red and white.