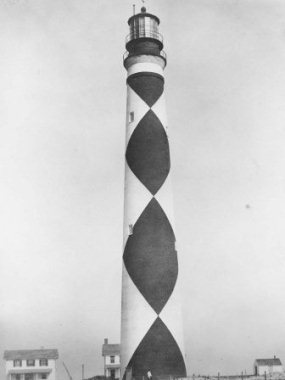 Courtesy of John Willis
Daymarks and Flash Patterns
When it was first built in 1859, the second lighthouse was a simple red brick tower as was the Cape Hatteras Lighthouse (1870), the Bodie Island Lighthouse (1872), and the Currituck Beach Lighthouse (1875). The Light House Board decided that each coastal lights would be assigned its own distinctive daymark, or color pattern. This would allow mariners to determine their location during the day in the same way that light flash patterns did at night. In 1873, the Cape Lookout lighthouse was painted with its distinctive black-and-white diagonal checkers (or "diamonds").
The original light was steady with no flash pattern. In 1914, however, this changed when an occulting device was installed, driven by a clockwork mechanism, which established a flash pattern for the light. The chain for the clockwork was so long that a hole had to be cut in the lantern room floor and two of the iron steps had to be altered. With the installation of the electric IOV lamp in 1933, the flash pattern became more complex. It was on for 2 seconds, off for 2 seconds,on for 2 seconds, and off for 9 seconds. Today, the light "flashes" once every 15 seconds as the beacons rotate.
For more information on the Light House Board, Lighthouse Service, and Coast Guard administration of lighthouses in the United States, please visit the Lighthouses: An Administrative History webpage.