Native American Arts Fest Features
Casa Grande Ruins National Monument would like to thank the following sponsors for their funding for performances: Western National Parks Association, Friends of Casa Grande Ruins National Monument, High Spirits Flutes, Canyon Records, and Desert Cloud Flute Circle.
Information on Featured Dancers listed here
Information on Exhibitors Music Related
Information on Exhibitors Other Arts
Featured Music Performers Listed Below
Here's a PDF of the Saturday line up
Here's a PDF of the Sunday line up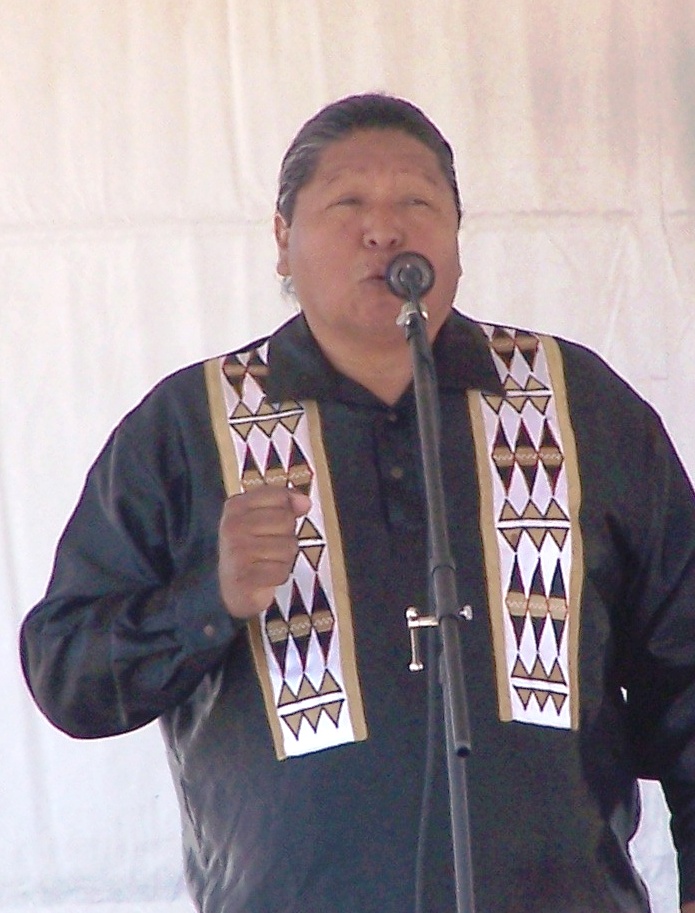 NPS
Master of Ceremonies: Travis Terry
Multiple 'Nammy' (Native American Music Award) Award Winner, and High Spirits recording artist. Travis Terry is Akimel O'odham. He was born in Sacaton, Arizona and is a member of the Gila River Indian Community. We are honored to have him serve as our Master of Ceremonies for the Music Fest. Surrounded from childhood by music and instruments of long ago, Terry is a self-taught musician. He writes the majority of songs he performs with inspiration from his indigenous O'odham culture, the heritage of the Dine' (Navajo), and his love of special places such as Canyon de Chelly, where he now lives with his wife Cara, a proud member of the Navajo Nation. Travis' CDs-Monument Valley, Canyon Shadows and Echoes of the Canyon Wall-will be available at the Music Fest. His other recordings include Navajoland with Alain Briot and Sacred Places, a DVD produced at USS Arizona Memorial.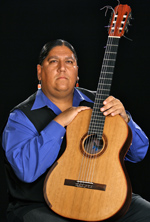 Featured Artist: Gabriel Ayala
A member of Yaqui people of southern Arizona, Gabriel Ayala is at the forefront of a new generation of Native Americans making a career performing classical music. He earned a Master's Degree in Music Performance from the University of Arizona and has taught at all educational levels. He performs internationally and has appeared at the Poway Center for Performing Arts, John F. Kennedy Center for the Performing Arts, the National Museum for the American Indian, the Festival Internacional de la Guitarra Academica in Venezuela, and in the Musical Instrument Museum series called "Guitar Masters" in 2010. Ayala has been widely recognized for his achievements, including the Native American Music Awards "Best Instrumental CD" and the Canadian Aboriginal Music Awards "Best World Music." His newest release is Passion, Fire & Grace, a CD which showcases the genre "JazzMenco" created by Gabriel. You can learn more about Gabriel Ayala by visiting his website www.ayalaguitarist.com
Special Guests: The Gabriel Ayala Trio
The Gabriel Ayala Trio brings together three master musicians, well-known to audiences in Tucson and around the world, in a new and exciting collaboration. Founded on the subtly sophisticated compositions of classical guitar Maestro Gabriel Ayala(Yaqui Tribe). The trio's sound also embraces the passion of flamenco, the improvisation of jazz and the heartbeat of contemporary world music. Gabriel Ayala's original repertoire is complemented by material from such diverse musicians and composers as Chick Corea, Paco de Lucia, Vicente Amigo and Erik Satie. Ayala's fabulous fretwork flows freely on the deep, smooth currents of Troy Gray's bass, propelled by the polyrhythmic pulse of Will Clipman's percussion, producing a richly-textured and soul-satisfying harmelodic grooviness that must be heard to be believed. Cummulatively, the trio has countless awards and accolades both National and International, including 6 GRAMMY Nominations.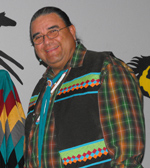 Featured Artist: John Bear
John Bear is a Native American flute player and teacher, who is Jena Choctaw and Chiricahua Apache. He was recognized as American Indian Male Elder of the Year in 2009. Bear learned to play the flute at an early age, and the melodies of his songs are haunting and soothing, drawing on his rich present day and past life experiences. His is a natural connection to the Native American Flute. John Bear's CD, Pure Passion was nominated for a NAMMY (Native American Music Award). His grandmother's admonition to "always give back." That admonition has inspired him to volunteer his time and talents to events such as Native American graduation ceremonies, Honor the Elders events, the Conference for the Deaf, The Native American Heritage Museum, and the Caring Center for Cancer and terminally ill patients. With a 27-year involvement in drug and alcohol recovery, Bear works to support other Native Americans who struggle to overcome drug and alcohol abuse.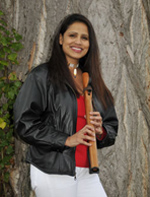 Featured Artist: Rona Yellow Robe
Vocalist and Native American flutist, Rona Yellow Robe-Walsh is of the Cree Nation of Saskatchewan Canada and an enrolled member of the Chippewa Cree Tribe of Rocky Boy, Montana. Rona is known for her powerful vocal ability, Native American Flute style and heart filled presence. It is by playing the Native American flute, which she refers to as "her other voice," that she has become comfortable sharing aspects of her life that are personal to her with all audiences. Rona has received many accolades including "Best Stage Performer" at Pacific Northwest Flute Quest 2009 and was 2008 RNAF Indigenous Flute Scholarship Recipient. Her popular CD, Voice of the Trees, by Deer Star Productions 2009 will be available for sale and autograph at the Fest. Additional information about Rona is available online at: www.RonaYellowRobe.com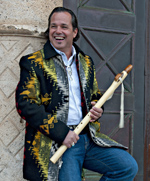 Featured Artisit: Tim Blueflint
Tim Blueflint Ramel is a Native American fluteplayer, dancer, and singer from the Bad River Chippewa and Comanche. It was Grandmother Blackstar who presented Tim with his first flute many years ago. The result of this gift has been the enchantment and delight of many audiences who have described his music as "breathtakingly pure and traditional…" Realizing the beauty and honor of his Native American heritage, he is dedicated to the preservation of the traditions and arts of his ancestors as has received from his "Sure-Enough" Grandmother, Blackstar (Comanche), a Holy Woman for her People and renowned silversmith. Also, an avid Native American Dancer and Singer, Tim was highly regarded and sought after as an exhibition dancer at many pow-wows in the West. He has been a champion Hoop and Fancy Dancer, as well as a respected singer with traditional drum groups. You can learn more about Tim Blueflint at www.shadesofrez.com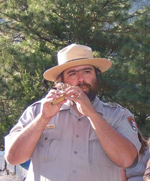 Featured Artist: Ben Cunningham-Summerfield
Ben Cunningham-Summerfield is Mountain Maidu of Northern California and Turtle Mountain Chippewa of Great Lakes Region. Ben is a Native American Flute Player, teacher, and demonstrator. He also practices and preserves the rare art and sciences of American Indian tradition. Ben works as a Park Ranger/Indian Cultural Demonstrator, at Yosemite National Park where he shares his knowledge and skills with more than 1 million visitors every year. Ben demonstrates the arts of flint knapping (making stone tools), cordage making, friction fire, flute playing and various other traditional crafts. Ben and his wife Kimberly also make traditional crafts for sale to private collectors, museum gift shops and other shops.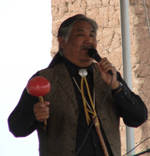 Featured Artist: Loren Russell
Loren Russell is Akimel O'odham (Pima) of the Gila River Indian Community. Mr. Russell is well acquainted with the traditions of the Akimel O'odham and many other American Indian tribes. He has performed as a storyteller and a musician at Casa Grande Ruins National Monument for several years. Currently, he is a Storyteller/Fluteplayer at the Sheraton Wild Horse Pass Resort. As a member of the National Storytelling Network, he has performed at the Swapping Grounds at the International Storytelling Festival in Jonesborough, Tennessee and as a featured Storyteller at the Mable Springs Storytelling Festival (a sanctioned Dogwood Arts Festival Event) in Knoxville. He is a member of the Arizona Flute Circle in Phoenix and is the grandson of Arizona Women's Hall of Fame member, Anna Moore Shaw.
Featured Artists: Aaron White and Anthony Wakeman
Etched in the Native traditions of Mother Earth, the music of Aaron White (Navajo/Ute) and Anthony Wakeman (Pottawatomi/Lakota) call to the heart and soul of all life. Aaron White, a founding member of Grammy nominated Burning Sky, and acclaimed cedar flutist Anthony Wakeman will perform a set of introspective songs meant to heal the heart and soul. Like a cascade of water trickling through canyons mixed with winds swirling up from the prairies, the sounds of acoustic guitar and cedar flute summon inner calm and quiet strength. Their new CD, Handprints of our People, will be available for purchase and autographs.