Arts Fest Exhibitor and Vendors
Music related Vendor information: flute makers, instructional materials, flute players, and more
Other Featured Artisans: information below
Why do we call them exhibitors/vendors? Because these people did much more than simply sell fine handmade items. They were busy showing you how they create their works and sometimes having you lend a hand. Several of these people will be offered demonstrations and workshops during the Fest.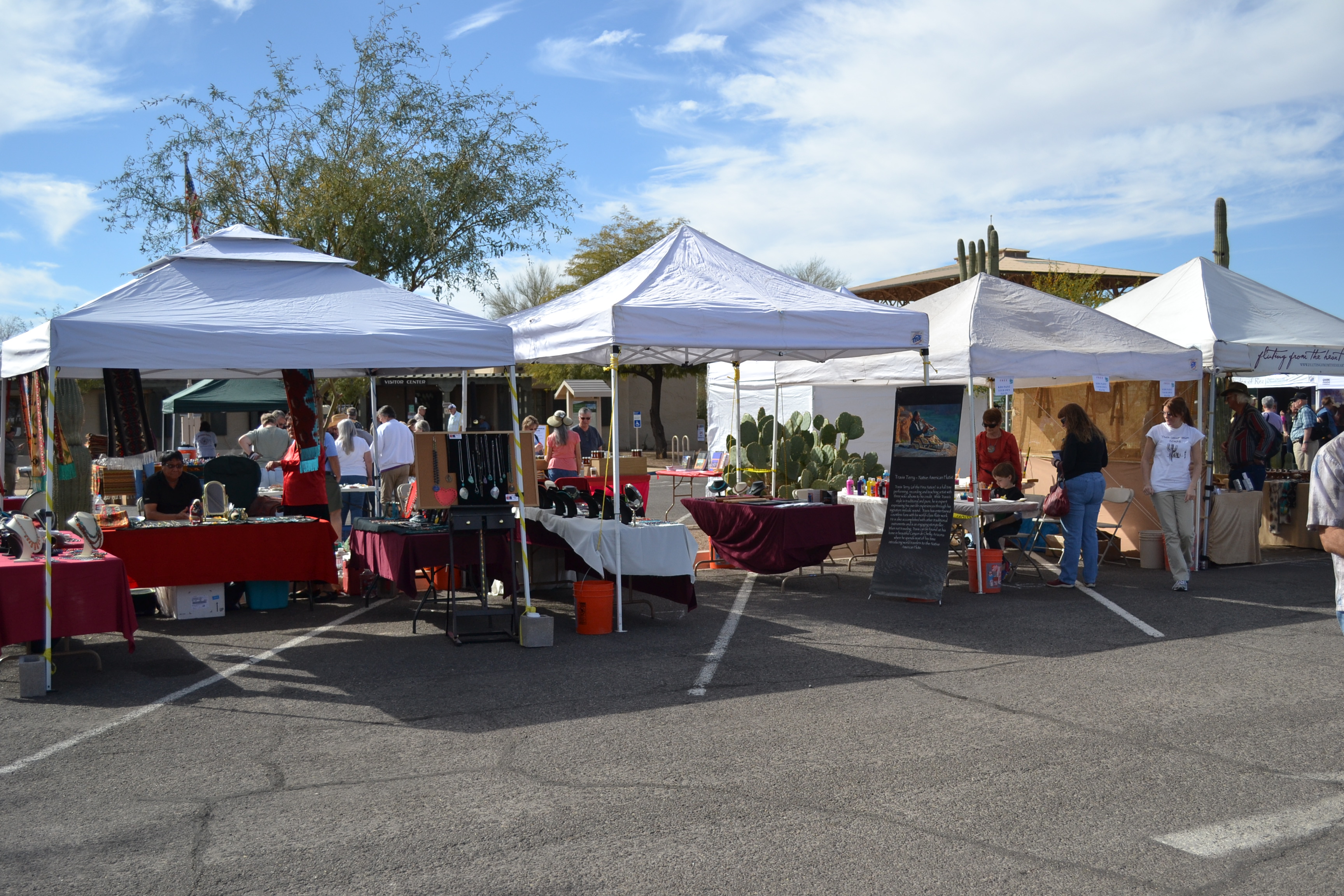 NPS
Tents optional, there will be much to see and do!
Silversmith: Antonelli Anton
A member of the Gila River Indian Community, Mr. Anton's work consists of designs related to the Pima Baskets. His jewelry is created to reflect what he sees in the desert and in family life.
Wood Carver: Harry and Isabella Benally
The Dine Lady features Navajo lady wood carvings modeled after Harry's late mother. All of the carvings are figures of things they grew up with.
Wood Carver and Jewelry Maker: Harry Bert
Favoring driftwood water tumbled cottonwood roots, Harry Bert carves Kachinas unlike any others. When askedd how his work differs from other artists, he answers "I try to make them more realistic than anybody else does. I try and see my friends dancing in my mind, then that's how I make my Kachinas." Learn more about the Kachinas by Harry Bert at www.twinrocks.com . Mr. Bert also creates sterling silver jewelry in the Navajo and Hopi styles featuring wildlife from around the country.
Pottery Makers: Ron Carlos and Jacob Butler
Ron makes pottery in the traditional style of the O'odham people using the paddle and anvil technique. He uses locally mined natural clays that are hand dug and hand processed by family members and himself. All of his pottery is "cooked" on an open fire using mesquite wood and cottonwood bark. Jacob does the design work on the pottery using all natural pigment and no commercial materials. There is an excellent video of the pottery being made at www.youtube.com/watch?v=5GbBG2Lym78
Artisan: Rex Carolin
Rex Carolin creates much sought after hide paintings. He explains that long time ago Native Americans used to use hide painting to tell stories or explain events that had taken place. He continues this tradition and has been commissioned to make specialty pieces to commemorate historical events or anniversaries during his lifetime.
Artist: Michael Chiago, Senior
Michael Chiago, Sr, has been a full-time painter of the relatively unknown everyday and ceremonial life of the Tohono O'odham people since 1970. He works in both acrylic and watercolors making paintings, original miniatures, painted pottery sherds, magnets and painted stones. His detailed and colorful illustrations in the children's book Singing Down the Rain (available in the park bookstore) help to explain much about the Tohono O'odham culture.
Artifact and Jewelry Makers: Amos and Rebecca Hasken
Mr. Hasken not only makes bows, arrows, flutes, quivers, rattles, spears and et cetera but he enjoys sharing information about them including their history and uses. The artifacts are made of wood, leather, turkey feather, stone or metal points, beads and horsehair. The Haskens also make silver jewelry in the Navajo tradition.
Artisan: Stella Keams
Stella Keams creates jewelry, rugs, and pottery in the Navajo style.
Gourd Artist: Juil Lorentzen
The cut, carved, and stained gourd art of Juil Lorentzen is "semi-functional art" she says. Gourds have been used by Native Americans in this area for a long time. Many of Ms. Lorentzen's gourds are art bowls, pots, etc. rather than functional working utensils. However, all peoples have found ways to embellish their everyday items, Ms. Lorentzen's items are simply embellished more.
Jewelry Maker: Andy Marion
A third generation Navajo silversmith, Andy Marion works with raw silver and gold, brass, and copper to create one of a kind jewelry. He has been a silversmith since the age of nine and won his first award when he was a teenager. He was taught by his father who is also a silversmith. Andy currently does both traditional and contemporary designs, focusing mostly on one-of-a-kind pieces. Andy cites working on bolo ties commissioned by Charlie Daniels and Kevin Costner as two of his greatest experiences. Andy's awards include 1st place - Jewelry at the Heard Museum, 1st place - Jewelry at the Eight Northern Artist Craft Show, and Best of Show - Jewelry at the Sky Ute Artist Invitational.
Jewelry Makers: Clifford and Tanya Monroe
Monroe Designs reminds us that "Native American beadwork is a craft that has been used by many tribes in decorating their clothing. Sterling silver jewlry was made primarily by the Navajo Tribal members to adorn their clothes in forms such as buttons or collars of velveteen shirts. Jewelry worn with turquuoise has been a long tradition of the Navajos which signified wealth and these traditions still hold true today."
Jewelry Makers: Lula and Richard Monroe
Richard Monroe crafts all handmade sterling silver jewelry while Lula Monroe creates beaded jewelry and pouches with patterns in the Navajo style.
Basket Maker: Mary Pablo
Ms. Pablo works using traditional desert plant materials to create baskets in the tradition of the Tohono O'odham and her family history.
Katchina Maker: Kenneth Quanimptewa
Kenneth Quanimptewa reminds us that Kachina dolls have been made by Hopi men as gifts to young girls for many years. Dried cottonwood roots are used for the carvings. Kachinas represent animals, insects, other tribes, even clouds and rain. He also makes gourd rattles as are used in Kachina and social dances.
Artist: Silvia Ramirez
Great Spirit Creations' Silvia Ramirez makes Native American crosses, jewelry, and yucca doll storytellers.Silvia also works in juniper beads.
Artisan in Beads, Gourds, and Traditional Foods: Julian Rivas
Julian Rivas creates a wide variety of O'odham arts and crafts. He enjoys working with gourds and using native materials to enhance their beauty. He also does work with beads and shares examples of a variety of beadwork techniques. Mr. Rivas' knowledge of traditional foods harvested from the desert or Southwest region is also happily shared with those who ask.
Beadwork Artisans: Martin and Bernadette Silvas
M & B Trading Post in El Paso, Texas, features the beadwork by the Silvas.
Jewelry Makers: Nelson and June Teller
Jewelry Maker: Lita Thompson
Using natural stones, Lita Thompson creates beaded jewelry specializing in necklaces, bracelets, and earrings.
Silversmith: Lucinda Thompson
Lucinda Thompson makes storyteller jewelry and money clips. She puts pictures of Ruins and stories of Canyon de Chelly on the jewelry. Ms. Thompson also uses a lot of pictograph and petroglyph symbols that are seen through out the Canyon in her work. She works with silver, brass, and different stones. During the festival she will attempt to cut elements of Casa Grande Ruins in her silverwork.
Native Foods Artisan: Don Wells and Jean Groen
Don and Jean write books about the desert plants and how the Native Americans used them for medicine, food, and utilitarian purposes. Jean grinds mesquite flour and makes jellies from desert plants. Don will be teaching how to find and identify useful plants of the area. You can learn more about their books at www.wells-groen.com