Fee Collection for Backcountry Permits

Navajo Nation Parks & Recreation Dept (NPRD) has a new office at the Cottonwood Campground. NPRD who manages the canyon tour operations will be collecting fees for the backcountry permits starting May 1, 2014. Call NPRD at 928-674-2106 for information.
Plan Your Visit
VISITING THE NAVAJO NATION
The park is located in Chinle, Arizona, and is entirely on Navajo tribal lands with Navajo families living in the canyon. The Navajo Nation observes Daylight Savings Time.
Consider visiting other nearby parks such as Petrified Forest NP; Hubbell Trading Post NHS, Navajo NM, and Monument Valley Tribal Park.
TRIP PLANNING
There is NO entrance fee. The park features a Visitor Center, two rim drives, ten overlooks, and one public trail to visit on your own. Private companies offer tours inside the canyon. Two campgrounds are located in the park requiring a nightly fee.
The town of Chinle is 2 miles from the park and offers a grocery store, post office, hardware store, bank, 3 laundromats, 4 gas stations, 5 convenience stores, 5 fast food places and 3 motels with dining and gift shops. For detailed information, click here for Planning Your Visit.
THINGS TO DO
VISITOR CENTER: Begin at the Visitor Center with a bookstore and orientation video. Park map and activity schedule are available. Visitor Center and parking lot gates close at 5 PM.
SCENIC DRIVES: On your own, drive along two paved rim drives that lead to overlooks which provide excellent views of the canyon below. Allow 2 hours to visit 3 overlooks on the North Rim Drive; best for morning photos. Allow 2 hours to visit 7 overlooks on the South Rim Drive; best for afternoon photos.
SELF GUIDED HIKE: On your own, drive up the South Rim to the one public hiking trail at the White House Overlook. Allow 2 hours to hike 600 feet down to the White House Ruin and back up the switchback trail. Restrooms at overlook and bottom of trail. No pets allowed on trail.
CANYON TOURS: Private companies offer tours into the canyon by hiking, horseback or vehicle. Tours require a backcountry permit and hiring an authorized guide. No pets allowed on tours. Contact companies directly for arrangements. Click here for Listing of Tour Companies.
RANGER LED ACTIVITIES: Ranger led activities including hikes and talks are generally offered from Memorial Day through Labor Day. Check at the Visitor Center for current activity schedule.
CAMPING: Cottonwood Campground is managed by the Navajo Parks and Recreation Department. Nightly fee with 93 sites available first-come, first-serve. No showers or hookups. Call 928-674-2106 for more information.
SUGGESTIONS IF YOU HAVE
2 Hours - Visit all 7 overlooks on South Rim Drive OR all 3 overlooks on North Rim Drive.
1/2 Day - Visit all 10 overlooks on South and North Rim Drive OR Visit the South Rim Drive and hike White House Trail OR take a half day canyon tour.
1 Day - Visit all 10 overlooks on South and North Rim Drives PLUS hike White House Trail OR visit all 10 overlooks PLUS take a half day canyon tour OR join an all-day canyon tour.
2 Days - Visit all 10 overlooks on South and North Rim Drives, hike White House Trail AND join an all-day guided tour.


Did You Know?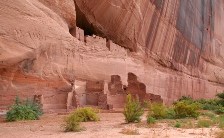 Canyon de Chelly National Monument is comprised entirely of Navajo tribal trust land with a resident community within the canyons. A backcountry permit and authorized guide are required to enter the canyon except for the White House Trail.