Fee Collection for Backcountry Permits

Navajo Nation Parks & Recreation Dept (NPRD) has a new office at the Cottonwood Campground. NPRD who manages the canyon tour operations will be collecting fees for the backcountry permits starting May 1, 2014. Call NPRD at 928-674-2106 for information.
Frequently Asked Questions
Is there a fee to enter the park?
No, the park is a non-fee area. Donations are appreciated and can be made at the visitor center.
Do I need a guide or backcountry permit for the North or South Rim Drives?
No, the North and South Rim Drives plus the White House Trail are self-guided activities you can do without a guide or backcountry permit. The rim drives and trail are open all year long.
Do I have to make reservations for the campground?
The Cottonwood Campground is now managed by the Navajo Parks and Recreation Department (NPRD). Reservations are required for group tent sites only. Individual campsites do not require a reservation. Please call NPRD directly at (928)674-2106 for camping rates and availability. Keep in mind there is limited services in the winter.
Are pets allowed in the park?
Pets on a leash are welcome on the North and South Rim Drives and in the campground. Pets are not permitted down the White House Trail or on any canyon tours, even when using your own vehicle. Exceptions are made for service animals.


Did You Know?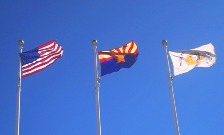 Located on the Navajo Nation, Canyon de Chelly National Monument observes Daylight Savings Time. From March through November, the time is ONE HOUR AHEAD of Arizona. The Navajo Nation changes its time because the Navajo Nation is partly in New Mexico and Utah.