Fee Collection for Backcountry Permits

Navajo Nation Parks & Recreation Dept (NPRD) has a new office at the Cottonwood Campground. NPRD who manages the canyon tour operations will be collecting fees for the backcountry permits starting May 1, 2014. Call NPRD at 928-674-2106 for information.
Laws & Policies
FIREARMS IN THE PARK



As of February 22, 2010, a new federal law allows individuals who can legally possess firearms under applicable federal, state, and local laws, to legally possess firearms in many National Park units.

All of the land within Canyon de Chelly National Monument is Navajo tribal trust land, and the Navajo Nation retains jurisdiction to manage many activities on the land. Subject to certain exceptions, Navajo Nation Code, tit. 17, § 320 (1979), provides that "[a] person commits unlawful carrying of a deadly weapon if he or she carries a loaded firearm or any other type of deadly weapon." The Navajo Nation may enforce its laws against Navajos and may charge non-Navajos with civil violations under this and other provisions of the Navajo Nation Code. Non-Navajos may be escorted off or totally banned from the reservation. It is the responsibility of visitors to understand and comply with all applicable tribal, state, and federal firearms laws before entering this park.

Federal law still prohibits firearms in certain facilities in this park; those places are marked with signs at all public entrances and includes the Visitor Center, Ranger office, and Maintenance building.
Did You Know?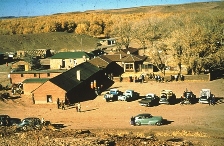 Thunderbird Lodge was originally a trading post operated by Charles and Samuel Day beginning in 1896. Charles Day was also appointed as the first custodian of the park.