Fee Collection for Backcountry Permits

Navajo Nation Parks & Recreation Dept (NPRD) has a new office at the Cottonwood Campground. NPRD who manages the canyon tour operations will be collecting fees for the backcountry permits starting May 1, 2014. Call NPRD at 928-674-2106 for information.
If These Walls Could Talk...
They would tell you that for nearly 5,000 years, people have lived in these canyons - longer than anyone has lived uninterrupted anywhere on the Colorado Plateau. Their homes and images tell us their stories. Today, Navajo families make their homes, raise livestock, and farm the lands in the canyon. The National Park Service and Navajo Nation are actively working together to manage park resources.
Features
Visit On Your Own

NO FEE to view the canyon from the overlooks on the North and South Rim Drives or hike the White House Trail on your own without a permit or guide.

Read More

Canyon Tours with a Guide

Private companies offer tours into the canyon for closer views of pueblo sites and rock images. Backountry permit and authorized guide required.

Read More

Free Ranger Led Activities

From Memorial Day through Labor Day, ranger led canyon hikes and evening programs are offered. Posted schedule at the Visitor Center.

Read More
Did You Know?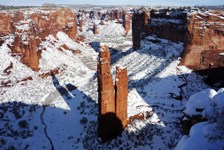 The name of Canyon de Chelly was derived from the misspelling and mispronunciation of the Navajo word for the canyon. The Navajos call the canyon "Tseyi" which is pronounced 'say-ee.' Eventually the word became "de Chelly" which is pronounced as 'de-shay'