Fee Collection for Backcountry Permits

Navajo Nation Parks & Recreation Dept (NPRD) has a new office at the Cottonwood Campground. NPRD who manages the canyon tour operations will be collecting fees for the backcountry permits starting May 1, 2014. Call NPRD at 928-674-2106 for information.
Directions
GETTING TO THE PARK
NOTE: Indian Route 7 is not recommended; the road is partially unpaved and unmaintained. GPS units and cell phone services are unreliable.
By Car

The Visitor Center is 3 miles (4.8 km) from Route 191 in Chinle, AZ.
From Flagstaff, AZ, take I-40 East then Hwy 191 North.
From Gallup, NM, take Hwy 264 West then Hwy 191 North.
From Kayenta, AZ, take Route 59 Southeast then Hwy 191 South.

By Plane
International airports located in Phoenix, AZ (5 hours) or Albuquerque, NM (4 hours). Municipal airports located in Flagstaff, AZ (3 hours); Farmington, NM (2 hours) and Gallup, NM (1 1/2 hours). Local airstrip for medical transport only.
Other Public Transportation

Amtrak train stations and Greyhound bus stations located in Gallup, NM or Flagstaff, AZ.
Navajo Transit System operates buses throughout the Navajo Nation. Call 928-729-4002 for more information.


Did You Know?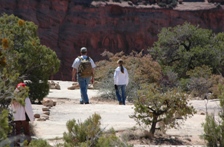 Canyon de Chelly National Monument requires pets to be on a leash when outdoors. Pets on a leash can be at the overlooks, in the campground or parking lots. For the safety and health of your pet, pets are not permitted on any trail or on a canyon tour.