Winter Outdoor Activities
Bryce Canyon is even more beautiful in the wintertime! For the casual visitor, it might be thrilling enough to hop in and out of the warm car at the various overlooks to see the striking contrast of white snow, red rock, and blue sky. However, for the more adventurous winter recreationists, many opportunities beckon. BEFORE setting out on one of the adventures described below, stop at the Bryce Canyon Visitor Center to get up-to-date weather and safety information.

One of the best times during winter to visit Bryce Canyon is during the Bryce Canyon Winter Festival. This annual event is held over President's Day Weekend, February 14-17, 2014.
2014 Winter Festival Schedule
Snowshow Hikes: Friday - Monday 9:30 a.m., reservations required.*
Solar Astronomy: Saturday - Sunday 11:00 a.m. - 1 p.m., Visitor Center (weather permitting).
Geology Talks: Friday - Monday 1:00 p.m., Sunset Point (or Visitor Center if inclement weather).
Snowshoe Planet Walk: Saturday and Sunday 2:00 p.m., reservations required.*
Full Moon Snowshoe Hike: Friday only, time & location TBA, weather permitting, reservations required.*
Friday Astronomy: Evening Program 7:30 p.m., Visitor Center, telescopes follow (weather permitting).
Saturday Astronomy: Evening Program 7:00 p.m., Visitor Center, telescopes follow, (weather permitting).
*Snowshoe Hikes can only accomodate a limited number of participants. Pre-registration may be made up to 2 days in advance by calling 435-834-4747. Reservations for the Ranger-led Full Moon Snowshoe Hike on Friday, February 14 are FULL! We do NOT maintain a waiting list for this activity. We apologize for the inconvenience.
ROAD CLOSURES:
Fairyland Road and the Paria Point Roads are intentionally left unplowed in winter so as to provide a skiable/snowshoeable surface when snowpack is minimal.

After winter storms, the road to the southern, and higher elevation overlooks, may be be closed for several hours or even overnight while snowplows work to reopen that half of the park. However, the roads and parking lots which provide access to the four most scenic overlooks (Bryce, Inspiration, Sunset and Sunrise Points) are plowed immediately after winter storms.

TRAIL CLOSURES:
Snow is ONLY cleared from the sidewalks at the overlooks. Therefore, All hiking trails are CLOSED TO THOSE WHO wear tennis shoes, dress shoes, etc. Water-proof hiking boots or snowboots are essential if you plan to hike. Additional traction devices (see below) are necessary to traverse the most popular trails.

HARD TRAIL CLOSURES:
Due to the danger of falling rocks, the upper portion of the Wall Street Slot Canyon (on the western half of the Navajo Loop) is routinely closed in winter. The Peekaboo Loop Connector Trail, that descends from Bryce Point, is often closed due to snow/mud avalanche/slide potential.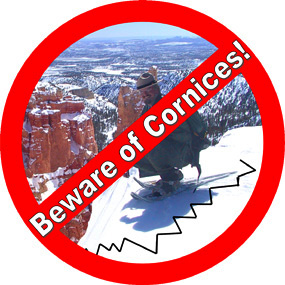 NPS photo by Ron Warner & Kevin Poe
Prohibited Activities
Skiing, snowboarding, sledding, etc. off of the Bryce Canyon Rim into the canyon is illegal due to the highly dangerous nature of such activities and the damage to the resource they can cause. The annual 200 daily freeze-thaw cycles that form our unique hoodoos also make steep sections of the canyon susceptible to avalanches and even the more dangerous and unpredictable mud-snow slides! Though we've never had a fatality from such an event, visitors who ignored this warning and became victims of mud-snow slides, have been injured and badly traumatized by the experience. Avoid these hazards by staying on designated trails and NOT skiing (or sliding) off of the canyon rim!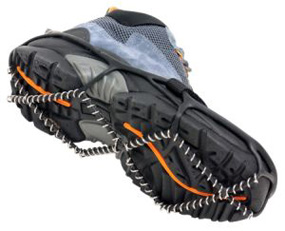 anonymous
Winter Hiking

After a big snowfall most of the park's day-hiking trails require snowshoes. However, after a few days of melt, and with continued use, the trails become so well packed and icy that snowshoes are often more of a liability. For much of the winter the most popular trails are so icy that steep sections cannot be safely traversed without some sort of additional traction device for your hiking shoes or boots. While mountaineering crampons work fine, they are heavier and much more expensive than the traction devices pictured at left. The Bryce Canyon Natural History Association's bookstore at the Visitor Center sells such devices for the discounted price of $27.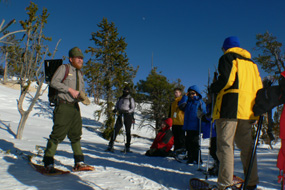 NPS photo by Kevin Poe
Snowshoeing
Snowshoeing is allowed throughout the park. Though snowshoes make it possible to travel through deep powdery snow, snowshoeing is still a highly strenuous activity. "Most people can snowshoe about as far as they can swim!" jokes Park Ranger Kevin Poe. "Especially if you haven't been taught good technique!" adds Park Ranger and Snowshoe Instructor Jim Jakicic.

NOTE: Ranger-led snowshoe hikes are suspended until further notice due to lack of snow (effective 01/27/2014). We will again offer snowshoe hikes when/if snow conditions permit. Alternative guided activities may be offered, inquire at the Visitor Center.
Snowshoes are available for FREE for those joining Bryce Canyon's Snowshoe Rangers (when snow depth and staffing are sufficient) Thursday, Friday, and Sunday at 9:30 a.m. for 1-mile, 2 hr. guided snowshoe hikes. Registration is required as group size is limited and hikes are subject to cancellation - please inquire about hikes and registration at the Visitor Center. Designed for beginner snowshoers, but also enjoyed by experts, these outings help you learn or refine your snowshoe technique, while also teaching winter ecology and other winter survival skills. Our High-tech snowshoes, made by MSR, come in all sizes but are only provided for participants of ranger guided snowshoe activities. Sign up at the Bryce Canyon Visitor Center or make a reservation by calling 435-834-4747. Attendance is free. NOTE: you must provide your own waterproof hiking boots, or ideally snowboots, to keep your feet warm and dry. Those with only tennis shoes, dress shoes, etc. will not be allowed to participate.
For visitors wishing to snowshoe at Bryce Canyon, but do not own their own or cannot participate in one of our guided hikes, snowshoes are available for rent outside the park in Bryce Canyon City.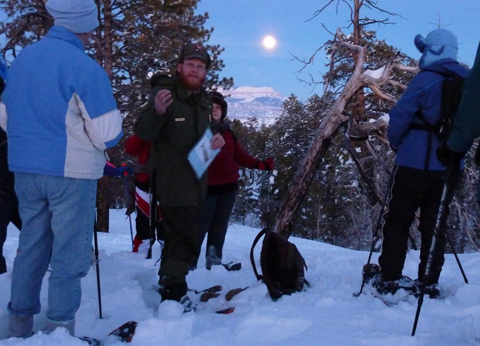 NPS photo by Kevin Poe
Ranger Guided Full Moon Snowshoe Hikes
From November through March (when snow depth exceeds 12") we offer full moon snowshoe hikes. Snowshoes and poles are provided but you must provide your own snow-boot or waterproof hiking boots. (Click here for more info and moon hike schedule)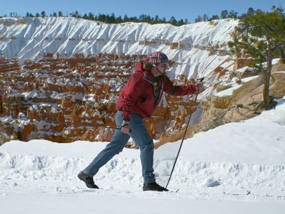 photo by Dan Ng & Kevin Poe
Cross-country Skiing
Another great way to explore Bryce Canyon is on cross-country skis. Though it is illegal to ski off of the rim into the canyon, you can enjoy a variety of routes above the rim. These include the rim trail between Bryce Point and Fairyland Point; Bristlecone Loop; Paria Ski Loop; and the unplowed Paria View and Fairyland Point roads.

On rare occasions when the snow depth allows, you can ski into the bottom of the Bryce Amphitheater from the outskirts of the town of Tropic. Another nearby favorite that allows for skiing among hoodoos, is the Red Canyon Bike Path. Also outside of the park, Bryce Canyon City maintains many miles of groomed ski trails. If you don't have your own skis, cross-country skis as well as snowshoe equipment can be rented in Bryce Canyon City.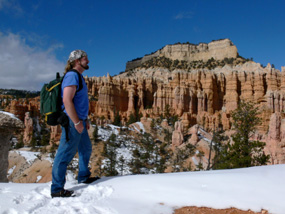 NPS photo by Jan Stock
Winter Backpacking
Bryce Canyon's backcountry is difficult anytime of year but it is especially challenging in the winter. Concerns are not limited to just deep snow and sub-zero temperatures, more importantly following the trail can be extremely challenging when covered in deep snow. Losing the trail makes it difficult to find the key routes back up to the rim and the Rainbow Point Road. For this and other reasons (open fires are prohibited, access road may be closed for several days after a big storm, etc.) winter backcountry permits are issued to only the most experienced and well prepared adventurers. Ski and/or snowshoe equipment is highly recommended. Click here for more information about backcountry camping.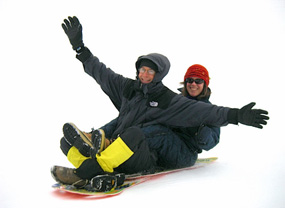 anonymous
Sledding

Although sledding is allowed above the canyon rim (sledding off of the canyon rim being strictly prohibited), there are very few suitable places within the boundaries of Bryce Canyon National Park to enjoy sledding. Local residents prefer to do their sledding in nearby Red Canyon.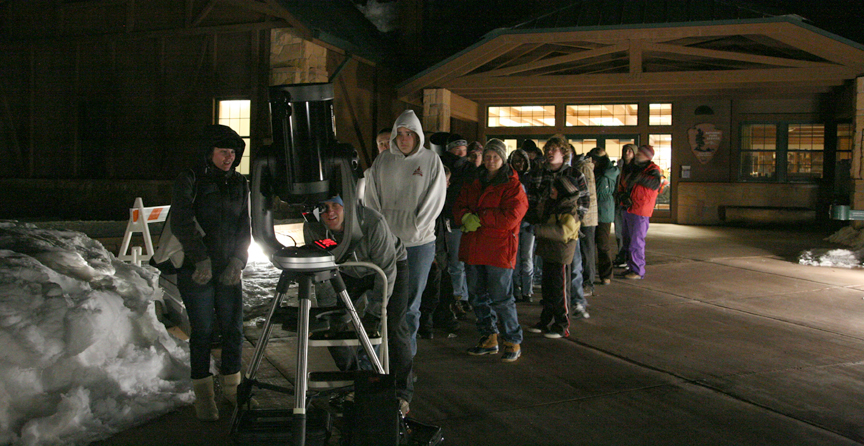 NPS Photo by Dan Ng
Winter Astronomy
Yes! Even in the winter time we offer Astronomy Programs! Join us every Saturday and additional holiday weekends from November - March for winter astronomy. Cold and dry air (sometimes as low as -30 F!) makes fabulous stargazing at Bryce Canyon - the last grand sanctuary of natural darkness.
(click here/photo for astronomy list)