Old North Church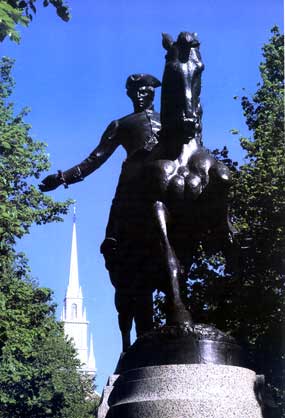 Built in 1723, Christ Church is better known as "Old North". It is Boston's oldest church building and still an active Episcopal Church. Henry Wadsworth Longfellow memorialized Old North's role at the start of the Revolutionary War in his poem, "The Midnight Ride of Paul Revere." On the night of April 18, 1775, sexton Robert Newman hung two lanterns in the steeple to warn Charlestown patriots of the advance of British soldiers. The church, a beautiful example of Georgian architecture, houses America's oldest maiden peal of bells and the first bust of George Washington.
Old North Church is operated by Christ Church.
Hours & Admission: For more information visit the
Old North Church
.


Did You Know?

Daniel Webster was once rebuffed in his effort to speak at Faneuil Hall. His support of The Fugitive Slave Law of 1850 earned for him the enmity of New England's abolitionists, and a worry that if he were allowed to speak, his appearance might spark a riot. He later spoke without incident.