New Bunker Hill Climbing Pass

From April 8 to June 30, for safe occupancy requirements, all visitors who climb the Bunker Hill Monument must first obtain a free climbing pass from the Bunker Hill Museum at 43 Monument Square. For groups of 10 or more, please call 617-242-5689.
Old North Church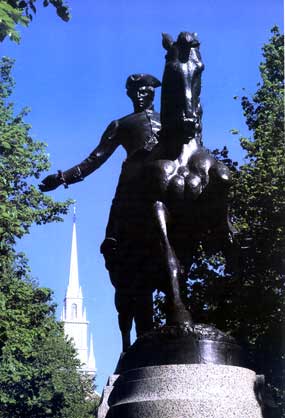 Built in 1723, Christ Church is better known as "Old North". It is Boston's oldest church building and still an active Episcopal Church. Henry Wadsworth Longfellow memorialized Old North's role at the start of the Revolutionary War in his poem, "The Midnight Ride of Paul Revere." On the night of April 18, 1775, sexton Robert Newman hung two lanterns in the steeple to warn Charlestown patriots of the advance of British soldiers. The church, a beautiful example of Georgian architecture, houses America's oldest maiden peal of bells and the first bust of George Washington.
Old North Church is operated by Christ Church.
Hours & Admission: For more information visit the
Old North Church
.


Did You Know?

Next time they pass the plate at King's Chapel in Boston, give generously.  The steeple hasn't yet been completed.  They started working on it in 1749