Though designed primarily for the news media, the NEWS section of Biscayne National Park's website is a great place to keep up on what's happening at Biscayne National Park. We invite you to return to this section regularly to learn about public announcements, upcoming events and more.
You can also stay up-to-date on park news by subscribing to our mailing list. Just send an email here with "Media Mailing List" in the subject line.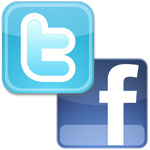 For regular updates from the park, "like" us on Facebook at www.Facebook.com/BiscayneNPS or "follow" us on Twitter at www.Twitter.com/BiscayneNPS.