Weather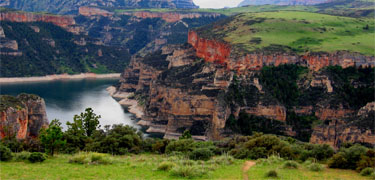 NPS
Weather in the Park
North District: Semi-arid, receiving 18 to 20 inches of rain annually.
South District: is a high desert in the rain shadow of the Rocky Mountains. Rainfall averages from 6 to 10 inches annually.
Summer temperatures: Highs in the 80s (F) and 90s (F), lows in the 50s (F) and 60s (F). Summer temperatures can peak over 100 degrees.
Winter temperatures: Range in the 20s and 30s with low temperatures averageing the 10s (F) and 20s (F). During the winter the thermometer can drop below 0 (F) with extreme wind chill factors.
Weather Forecasts

We have weather reports and forecasts available from a few different sources.
Weather Links
Bighorn Canyon Historical Weather Information Links


Did You Know?

The Yellowtail Wildlife Habitat Management Area is a paradise for bird watchers. Over 155 bird species can be observed throughout the year including the great blue heron, bald eagles, and white pelicans. More...