Weather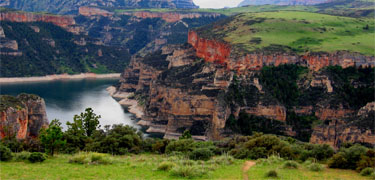 NPS
Weather in the Park
North District: Semi-arid, receiving 18 to 20 inches of rain annually.
South District: is a high desert in the rain shadow of the Rocky Mountains. Rainfall averages from 6 to 10 inches annually.
Summer temperatures: Highs in the 80s (F) and 90s (F), lows in the 50s (F) and 60s (F). Summer temperatures can peak over 100 degrees.
Winter temperatures: Range in the 20s and 30s with low temperatures averageing the 10s (F) and 20s (F). During the winter the thermometer can drop below 0 (F) with extreme wind chill factors.
Weather Forecasts

We have weather reports and forecasts available from a few different sources.
Weather Links


Did You Know?

One of the most famous fossil discoveries is within view of Bighorn Canyon. Natural Trap Cave is well known within the scientific community due to the presence of over 40,000 fossil bones, among them the remains of the Short-faced bear, American lion, American Cheetah, American Camel, and Mammoth. More...