Weather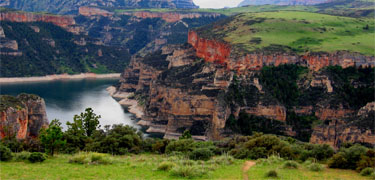 NPS
Weather in the Park
North District: Semi-arid, receiving 18 to 20 inches of rain annually.
South District: is a high desert in the rain shadow of the Rocky Mountains. Rainfall averages from 6 to 10 inches annually.
Summer temperatures: Highs in the 80s (F) and 90s (F), lows in the 50s (F) and 60s (F). Summer temperatures can peak over 100 degrees.
Winter temperatures: Range in the 20s and 30s with low temperatures averageing the 10s (F) and 20s (F). During the winter the thermometer can drop below 0 (F) with extreme wind chill factors.
Weather Forecasts

We have weather reports and forecasts available from a few different sources.
Weather Links
Bighorn Canyon Historical Weather Information Links


Did You Know?

Robert Yellowtail served as the superintendent of the Crow Indian Reservation and was later elected tribal council chairman. Under his leadership, the culture and economy of the Crow people was revived. Although, he opposed the construction of the dam on the Bighorn River, it is named in his honor. More...