Bent's Old Fort National Historic Site preserves the resources associated with the Bent-St. Vrain Trading empire, which radiated from Bent's Old Fort into what is now Texas, New Mexico, Kansas, Nebraska, Arizona, Utah, Wyoming, and Missouri. The fort solidified one of the most important and last established trading cartels in the Rocky Mountain west. Established in 1833, Bent's Old Fort was an important point of commercial, social, military, and cultural contact between Anglo-American, American Indian, Hispanic, and various minority cultures on the border of United States Territory. The fort served as a point of exchange for trappers from the southern Rocky Mountains, travelers from Missouri and the east, Hispanic traders from Mexico, and Indians, primarily from the Cheyenne, Arapaho, Comanche, and Kiowa Tribes. The site's primary resources include the archeological remains, the reconstructed fort and the historic scene. These resources allow visitors to learn about and reflect on the westward expansion of the United States. The park is situated on a series of low benches along the Arkansas River in southeastern Colorado. It is located on the western edge of the Great Plains at an elevation of 4035 feet. This area is short grass prairie, classified as the Kuchler Vegetation Type, as grama and buffalo grasses predominate on the high benches. The river bottoms encompass mixed grasses, riparian, and wetland plant species. The current vegetation is a mixture of native plant communities impacted by exotics and grassland recovering from agricultural use.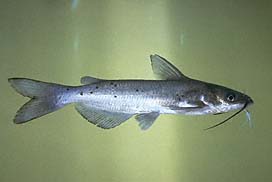 August 26, 1846, Lt. J. W. Abert --
"Cat fish and hickory shad ar the only kinds I have ever seen in these waters; and we found them very palatable, although they may not be compared with the white fish of lake superior or the rock fish of the Potomac."