Events and activities subject to change

The public should be prepared for reduced hours and services provided by Bent's Old Fort National Historic Site employees due to the sequestration that became effective March 1, 2013. Please check back often for further details or changes.
Maps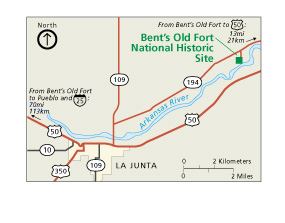 The park is accessed via U.S. Highway 50 and Highway 194. From La Junta, Colorado on U.S. Highway 50, take Highway 109 north 1 mile to Highway 194, then east on Highway 194 six miles to the fort. From Las Animas, Colorado, on U.S. Highway 50, take Highway 194 west 13 miles. Click here for a map of the park.


Did You Know?

Bent's Fort was on the boundary with Mexico in the 1830s and 1840s.  It was 600 miles from the nearest town in Missouri.