Christmas, New Years Closures

The visitor center/WNPA store are closed Christmas (December 25) and New Year's (January 1) Days. Park trails remain open dawn to dusk. More »
Pets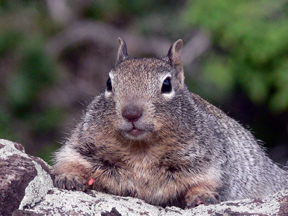 NPS Photo by Sally King
Pets are not permitted on the shuttle bus from White Rock. Service animals are allowed.

If you come to the park in your private vehicle (see visiting Bandelier) then the following rules apply. Pets are NOT permitted on any park trails. They are allowed in the picnic area, campground, and parking lots. All pets must be under physical restraint while in the park. Remember, pets may not be left unattended except in a vehicle. Please be sure animals are provided adequate ventilation. Pets should never be left in a closed vehicle during hot weather.
There are areas on Department of Energy land near the park that do allow dogs. These areas are located between the town of White Rock and the park.
Printable map of DOE lands where dogs can walk. (3.67 mb PDF)
Did You Know?
Frijoles Creek drops approximately 80 feet over the Upper Falls. The falls occur where the waters of Frijoles Creek hit the more resistant, dense basalt rock from the neck of an ancient volcano.