Juniper Family Campground
BEARS ACTIVE IN AREA: Keep food away from all animals. Never leave food or coolers unattended. Keep a clean campsite.
Water spigots are located throughout each loop and as well, water is available at each comfort station. The RV dump station will be closed whenever nighttime temperatures fall below freezing.
Overview
Juniper Family Campground is located near the entrance to the park, just off Highway 4. After passing through the park entrance station take the first right turn. There are 3 loops in Juniper Campground and sites are first come first serve, no reservations are taken. Juniper Campground sometimes fills to capacity on summer holidays and nice weather weekends. It has been filling more regularly in spring/summer 2021.

Cost for family camping is $12/night with a fifty percent discount for holders of Inter-Agency Senior or Access passes. Fees are paid by credit card only at a self-registration kiosk located near the entrance to the campground.
Reservations are taken for two sites in the Abert's squirrel loop which are reserved for small groups (10 - 20 people). The cost for these group sites is $35/night. Reservations for these group sites are available at www.recreation.gov or you can call 1-877-444-6777.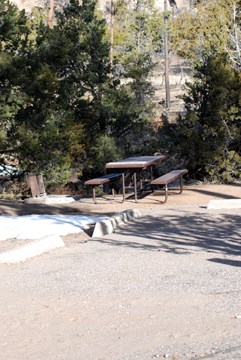 Facilities
-A restroom with running water is centrally located in each campground loop.
-Each site has a picnic table and a grill.
-There are no electrical hook-ups or showers available.
-Most sites are appropriate for tent, RV, or trailer camping. Several sites can accommodate vehicles as long as 40 feet.
-A dump station is located on the road to the campground.
-During summer, there will be a campground host.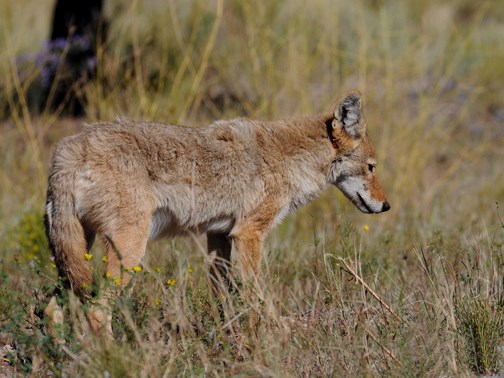 Restrictions
-Generators may be used only from 8:00 AM to 8:00 PM.
-Clean up your campsite before leaving. Food and trash left behind attracts wildlife.
-Picnickers may use campsites for day use but must leave by 4:00 PM.
-Pets must be kept on a leash at all times and are not allowed on any park trails.
-Quiet hours are from 10:00 PM to 6:00 AM.
-Firewood collecting is not permitted within the park.
-There is a limit of 2 tents, 2 vehicles, and 10 people per site.
-Check-out time is 11:30 AM.
CLICK HERE FOR A MAP OF JUNIPER CAMPGROUND - Remember, not all campground loops may be open at any given time.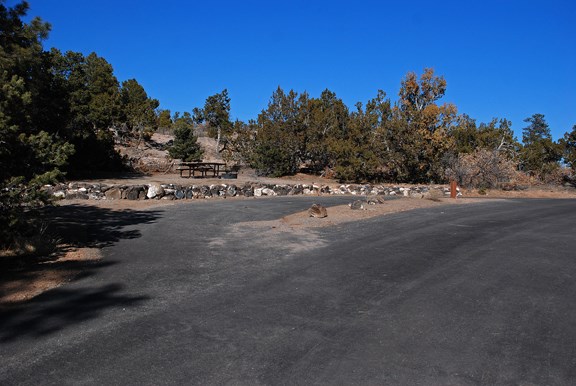 Cell Phone Additional Information
Internet Additional Information
Accessibility Information
Last updated: December 6, 2022