Access by Shuttle Bus Only

Through October 27, 2014 all access to the most visited part of the park, Frijoles Canyon, will be via a mandatory shuttle bus from the nearby community of White Rock from 9 AM - 3 PM daily. Private cars may drive in before 9 AM or after 3 PM. More »
Hiking in Bandelier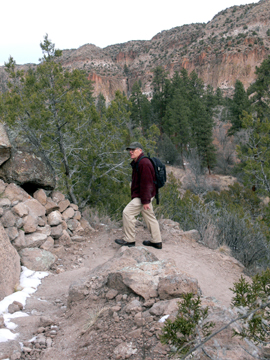 Photo by Sally King
Bandelier National Monument has over 70 miles of trail within its boundaries and many more miles that connect out into the adjacent Santa Fe National Forest Lands. The most popular of these trails are the Main Loop Trail and Alcove House Trail (click on the Short Trails highlight to the right) which are accessed from the visitor center in Frijoles Canyon. These trails take you to many Ancestral Pueblo sites.
The Falls Trail is another trail that is very popular (click on the Short Trails highlight to the right). It takes you to a beautiful waterfall. Before the flash floods of 2011 the trail continued to the Lower Falls and ultimately to the Rio Grande. Flooding destroyed the trail leaving no access to the Rio Grande from Frijoles Canyon. There are no archeological sites on this trail.
Bandelier also offers opportunities for much longer hikes (click on the Long Trails highlight to the right). Permits are available for overnight stays in much of Bandelier's backcountry (click on the Backpacking highlight to the right).
Did You Know?

Scorpionweed gets its name from the shape of the flowers, which unfold like a scorpion's tail as they prepare to bloom.