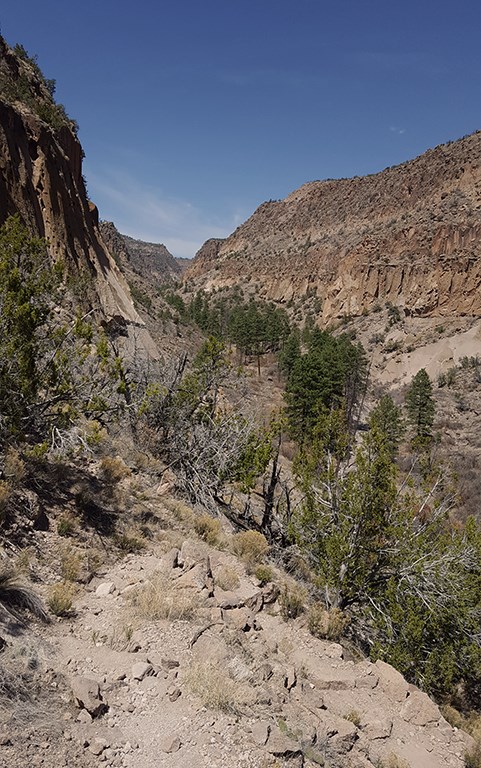 The Bandelier backcoutry is renowned for its wildness, beauty, and its relative ease of access. Although still very beautiful, the Bandelier backcountry was impacted by the Las Conchas Fire of 2011. Flooding in all park canyons followed and many trails were damaged in canyon bottoms. Park staff has been hard at work repairing the trails but a few trails remain almost inaccessible. Please check at the visitor center and see the Trail Condition map at the bottom of the page for current conditions before hiking in the backcountry.

Due to summer monsoon flood danger, backcountry camping is closed in Frijoles, Alamo, and Capulin canyons, or any stream bottoms July 1st through September 15th. Also, during windy times, dead trees in fire areas, as well as all treed areas can be hazardous. Please camp away from stands of dead or damaged trees. Please backcountry camp only on mesa tops and in designated camping areas

Overview
There are over 70 miles of trail within Bandelier National Monument. Trails tend to follow mesa edges or transect canyons and mesas. Some of these trails include steep switchbacks and long drop-offs. Trails can be very icy in winter or early spring. Some trails marked on older maps are no longer maintained and may be impossible to find. Always take a current map. Be sure to check on trail conditions by stopping by or calling the visitor center at (505) 672-3861 x 517.
Permits
A permit is required for any overnight stays in the Bandelier backcountry. Permits are free, must be obtained in person anytime the visitor center is open except for the last 20 minutes before closing. You may obtain a permit the day of your trip, or a maximum of 48 hours before your planned backcountry trip begins.