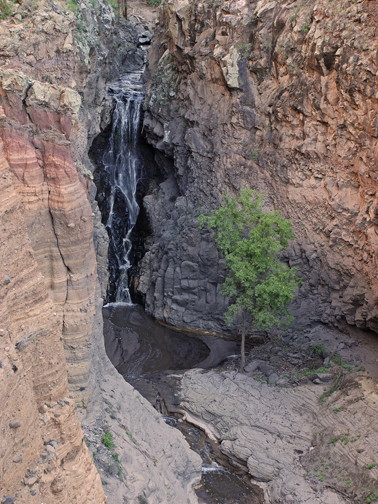 The Falls Trail starts at the end of the Backpacker's Parking Lot near the visitor center. The trail descends 400 vertical feet in its 1.5 mile length to the Upper Falls. A beautiful trail in any season, this trail is not cleared of snow in the winter and can be extremely icy. There are steep dropoffs along the trail and plank bridges across the creek. Keep children close at all times and watch for wildlife. Take plenty of water. Water from the creek should not be drank without first treating it.
THIS TRAIL IS NOT ACCESSIBLE TO WHEELCHAIRS OR STROLLERS.
The Falls Trail used to lead another mile past Upper Falls to the Rio Grande. A major flash flood event in August, 2011 destroyed a portion of the trail leaving no safe access to areas beyond Upper Falls. This area is closed to all access from the Falls Trail..