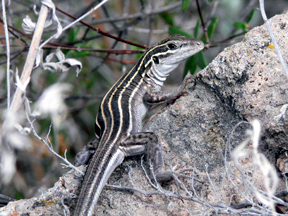 NPS Photo by Sally King
Reptiles may not be cute and cuddly like mammals or sing pretty songs like birds but they play their role in Bandelier's ecosystem. Bandelier's reptiles come in a number of shapes and sizes. What they all have in common - their inability to regulate their body temperature- they're cold-blooded.
Short-horned Lizards

6 Photos

Short-horned lizards are common in the Pinon-Juniper Woodlands. This album includes photos of various Short-horned Lizards photographed within Bandelier. Most, but not all, of the photographs are downloadable.

Reptiles of Bandelier

3 Photos

Bandelier is home to some very interesting and unique reptiles and a few amphibians.