Extreme Fire Danger

Due to extremely dry conditions, fire restrictions are in effect in all national park units in Southeast Utah. More »
Backpacking
Arches is a relatively small park with little terrain for backpacking. In order to backpack, you must obtain a free backcountry permit at the visitor center. The maximum group size is ten, but smaller groups are recommended to reduce impacts. Permits may not be reserved in advance. Backcountry campsites must be:
at least one mile (1.6 km) from (and out of sight of) designated roads,
at least one-half mile (0.8 km) from (and out of sight of) designated trails,
out of sight of any arch named on a USGS topographical map, and
established before sundown.
Backpackers should know how to navigate with a topographic map, recognize safety hazards and practice low-impact camping specific to the high desert. Outside the developed areas there are no designated trails, campsites or reliable water sources. Primary safety considerations include steep terrain, loose rock, lightning, flash floods and dehydration.
For more information and a map of permitted areas, please download:
Backpacking Brochure
[645k PDF file]


Did You Know?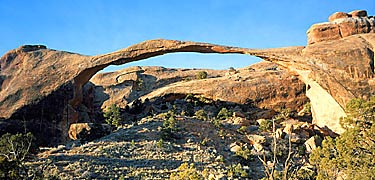 Landscape Arch is the longest arch in Arches National Park, measuring 306 feet from base to base. In 1991, a massive slab of rock fell from its underside, resulting in an even thinner ribbon of rock.