Contact Us
We receive many requests for information that is available on our website (and our site contains far more information than we can send). If you can't find what you're looking for using the search form, browse the site index or read the FAQs, and let us know if you think information is difficult to find. Also, consider posting your question on our Facebook page as someone else might be wondering the same thing.

By Mail
Arches National Park
PO Box 907
Moab, UT 84532-0907

By Phone
Visitor Information
(435) 719-2299
Headquarters
(435) 719-2100
Elsewhere
Facebook
Flickr
Twitter
YouTube
By Email
General Information & Visitor Comments
Educational Fee Waivers


Did You Know?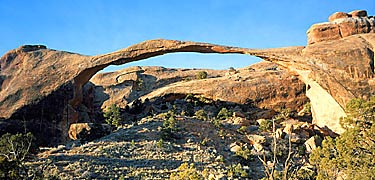 Landscape Arch is the longest arch in Arches National Park, measuring 306 feet from base to base. In 1991, a massive slab of rock fell from its underside, resulting in an even thinner ribbon of rock.