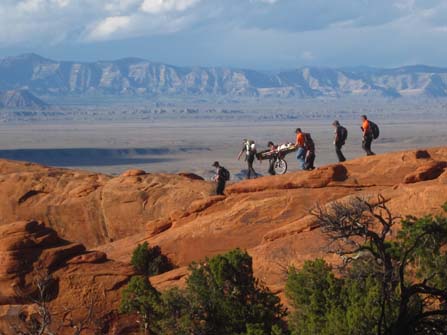 NPS Photo by Tricia Ortiz
Each year, park rangers respond to dozens of search or rescue incidents in the park. These frequently involve heat exhaustion, dehydration, climbing or scrambling and improper footwear.
We want your visit to be safe and enjoyable. Below are some of the potential hazards you may experience during your visit. Please become familiar with them, and keep them in mind while you're here.
Heat & Sun
During the summer, expect high temperatures, intense sunlight and low humidity. Eat plenty of food and drink at least one gallon of water each day. Carry and drink water during all activities, such as hiking. Wear loose-fitting, light-colored clothing and a wide-brimmed hat. Apply sunscreen to all exposed skin. Consider saving strenuous activity for early mornings or evenings. Water is available at the visitor center and at Devils Garden Trailhead and Campground.
Proper Footwear
Wear sturdy shoes with enough tread to give you good traction. Do not hike in smooth-soled shoes or boots. Some trails cover uneven terrain and follow rock ledges
Climbing & Scrambling
Slickrock invites adventure. When you climb or scramble, be sure you can retrace your steps, and remember that it is often harder to climb back down. Sandstone is very slippery when wet or covered in sand. It is prohibited to climb on or walk across any arch larger than three feet.
Lightning & Flash Floods
Storms and flash floods can be powerful and sudden. When lightning is present, avoid lone trees, cliff edges and high ridges. Crouch low to the ground. Return to your vehicle if possible. Never try to cross a wash that is flooding.
Staying Found
Stay with companions while hiking; separation can mean getting lost. Do not count on a cellular phone to summon help; cellular service will not reach into many areas of Arches. If you become lost, stay where you are and wait for rescue. Wandering will endanger your life and make finding you difficult. When traveling alone, always tell someone where you are going and when you expect to return.
Animal-Transmitted Diseases
Hantavirus, plague, tularemia, and West Nile virus are wildlife-related diseases that have been confirmed in the state of Utah, though not necessarily in the park. Casual visitors to the park are unlikely to be exposed, but awareness is your best defense.
Bears
Black bears occasionally wander into the park from the nearby mountains.