Plan Your Visit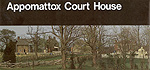 NPS
Appomattox Court House National Historical Park is comprised of many original historic structures along with several reconstructed buildings on approximately 1,700 acres in rural southside Virginia. The village of Appomattox Court House was the site of the surrender of General Robert E. Lee, the event that signaled the end of four years of Civil War.
Scout leaders click here if planning a visit.

Accessibility - Find out more about the accessibility of the park and things to know before you visit.
Facilities:
The McLean House -Surrender Site
The reconstructed McLean house is located within the historic village approximately 150 yards west of the Visitor Center.
Special Programs
On-site interpretation by park rangers is provided on a daily basis, and tours on the hour are available seasonally.
Exhibits
The McLean House three-story structure is furnished with mid-nineteenth century furnishings. The parlor of the house, where the surrender meeting took place, is furnished with a combination of original and reproduction items. Outbuildings are also open, including: slave quarters, exterior kitchen, and outhouse.

Museum/Visitor Center
Appomattox Court House Visitor Center/Museum
Phone: 434-352-8987 x 226

The Visitor Center is in the reconstructed courthouse building on VA 24, 2 miles (4.8 km) northeast of the town of Appomattox, VA. The closest airport is in Lynchburg, VA, 25 miles (40.3 km) west.

Special Programs:
Living History programs are offered every day during the summer months, and occasionally on weekends in the spring and fall. Actors portray historical figures from the 1860s.

Exhibits:
Exhibits include many original artifacts associated with the events surrounding the surrender of the Confederate Army of Northern Virginia. Artifacts range from the pencil used by General Lee to make corrections in the surrender terms to documents and military artifacts.
Theater:
The park has a 70-seat theater where two different 15-minute slide programs are shown on an hourly schedule. The "Documentary" program covering the campaign is shown at the top of the hour. The second program, "Soldiers' Diaries" consists of excerpts from diaries of soldiers who were present at the site in 1865, and is shown on the 1/2 hour. The last show of the day is the "Soldiers' Diaries" at 4:30 p.m.
Ranger Ernie Price gives a brief introduction to visitors planning a trip to the Appomattox Court House Historical Park.

Duration:

2 minutes, 22 seconds

Credit / Author:

Ernie Price

Date created:

2012-01-01


Did You Know?
General George Armstrong Custer, of Little Bighorn fame, received the flag of truce at Appomattox Court House that brought about a cessation of hostilities leading to the surrender meeting between Lee and Grant. The Original Truce Flag is exhibited at Appomattox Court House National Historical Park.