Beginning Oct. 28, 2013, the McLean House front porch will be closed, (house to remain open).

The front porch of the McLean House is being renovated requiring entry into the house to through the back door beginning Oct. 28.
Accessibility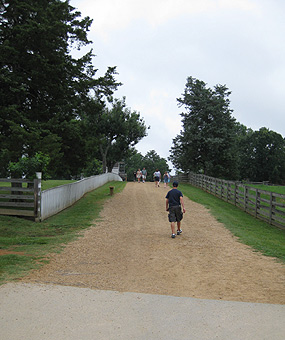 NPS Image
Much of the village terrain is relatively flat, but, there is a one-hundred yard walk uphill from the parking lot to get into the village. Surfaces in the village are gravel, dirt, and grass.
Due to the historic nature of the historic village, most buildings are not accessible to wheelchairs. Many of these structures feature steps to enter and narrow hallways.
Our visitor center shows two different 15-minute films, one at the top of the hour and one at the bottom of the hour. The film is shown in the upstairs auditorium, but may also be seen on the first floor. Exhibits are located on the second floor, accessible by stairs only. A picture album of the second floor exhibits and other areas of the park that are not accessible is available in the visitor center.
Wheelchairs can be borrowed at the visitor center on a first come, first serve basis. There is no charge, but we ask for a driver's license while the chair is in use. Visitors should note that while wheelchairs can be taken all around the park, the gravel and dirt surfaces can make it strenuous work.
For braille readers, there is a table-top braille map of the village and a braille guidebook of the village available in the visitor center.
Did You Know?

Several regiments of United States Colored Troops fought on the front line in the Battle of Appomattox Court House on the morning of April 9, 1865. Blacks served in segregated units under white officers. The U.S. Army would not be integrated until the Korean War.