Things To Do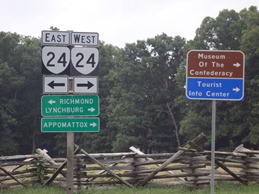 Special Programs:
Check the
Schedule of Events calendar
for special programs that may be offered, especially during the anniversary week in April and periodically throughout the summer.
Exhibits: Exhibits include many original artifacts associated with the events surrounding the surrender of the Confederate Army of Northern Virginia. Artifacts range from the pencil used by General Lee to make corrections in the surrender terms to uniforms, documents, and military items associated with the historic events at Appomattox Court House.
Theater: The park visitor center has a 70-seat theatre where two different 15-minute video programs are shown on an hourly schedule. The "Documentary" program covering the Appomattox campaign is shown on the 1/2 hour. The second program, "Soldiers Diaries" consists of excerpts from diaries of soldiers present at the site in 1865, and is shown on the hour. The last show of the day is the "Documentary" at 4:30 pm.
Get a "birdseye view" of the Park: more...


Did You Know?

Robert E. Lee's father, "Light Horse Harry" Lee, present at the surrender at Yorktown in 1781, wrote that General Cornwallis had shirked his responsibility by sending junior officers to meet with General Washington. Lee chose to meet personally with Grant at Appomattox.