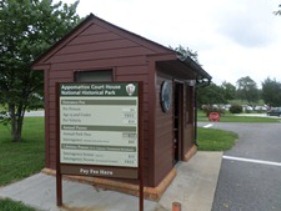 The entrance fee is $10/vehicle (privately owned vehicles, less than 15 passenger), and $5 per motorcycle.
Commercial Bus Tours: $100/bus and should be scheduled in advance.
All valid National Park Passes are accepted.
The Interagency Passes (National Parks and Federal Recreational Lands Pass Program) are honored. This includes the Annual ($80), Senior ($10), Access, Volunteer, and park specific (Appomattox Court House NHP) annual pass ($15). Vehicles are restricted to the parking area and paved roads. Pets must be on a leash. Picnicking is permitted in designated areas only.