If These Walls Could Talk...
They would tell you that for nearly 5,000 years, people have lived in these canyons - longer than anyone has lived uninterrupted anywhere on the Colorado Plateau. Their homes and images tell us their stories. Today, Navajo families make their homes, raise livestock, and farm the lands in the canyon. The National Park Service and Navajo Nation are actively working together to manage park resources.
Features
What To Do On Your Own

View the canyon from the overlooks on the North and South Rim Drives or hike down the White House Trail all on your own without a permit or guide.

Read More

Want To See More? Consider A Canyon Tour

A backcountry permit and authorized guide are required for tours through the canyon which offer closer views of ancient pueblo sites and rock images.

Read More

Free Ranger Led Activities

From Memorial Day through Labor Day, ranger led canyon hikes and evening programs are offered from Thursdays through Sundays.

Read More
Did You Know?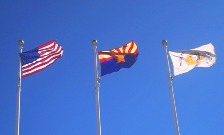 Located on the Navajo Nation, Canyon de Chelly National Monument observes Daylight Savings Time. From March through November, the time is ONE HOUR AHEAD of Arizona. The Navajo Nation changes its time because the Navajo Nation is partly in New Mexico and Utah.