Visitor Centers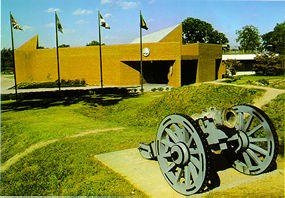 The Yorktown Visitor Center is the orientation point for your visit to Yorktown and Yorktown Battlefield. At the visitor center information desk, you can obtain a park brochure with maps and information, an orientation to the park, and an opportunity to schedule your visit around the various interpretive programs going on throughout the day.
The entrance fee to Yorktown Battlefield is collected at the visitor center. Fee and Pass information
A 15-minute orientation film, entitled "The Siege at Yorktown," shows on the hour and half hour. From there, you can tour the museum exhibits which focus on the 1781 Siege of Yorktown, the Battle of the Capes, and the campaign table used by British General Cornwallis during the siege. General Washington's Campaign Tents are also on display in the museum.
The museum sales shop has an excellent selection of books and reproduction items which focus on America's Colonial Period and the American Revolution. An audio tour of the 7-mile Battlefield Auto Tour Road is available for purchase in the sales shop. The cost of the audio tour is $4.95 for CD. It takes one hour and 15 minutes to complete.
Before you leave the visitor center to begin your self-guided tour of Yorktown and Yorktown Battlefield, take a look at the information board to check the times for the various interpretive programs and historic house hours to make sure you get the most out of your visit to Yorktown.


Last updated: August 30, 2017