Things To Do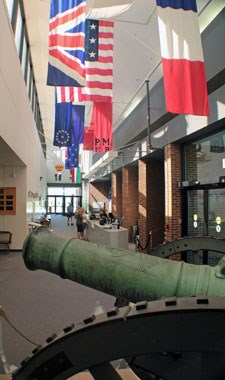 Welcome to Yorktown and Yorktown Battlefield, site of the last major battle of the American Revolutionary War. The American-French victory at Yorktown on October 19, 1781 secured independence for the United States and significantly changed the course of world history.
Today, Yorktown Battlefield is administered by the National Park Service (NPS), and is part of Colonial National Historical Park which includes Historic Jamestowne, the first permanent English settlement in North America; the Colonial Parkway, which connects the Historic Triangle of Jamestown, Williamsburg and Yorktown;Green Spring, a colonial period plantation developed by Royal Governor Sir William Berkeley; and Cape Henry, first landing site of the Jamestown settlers in the new world on April 26, 1607, and site near which the naval engagement, the Battle of the Capes was fought on September 5, 1781. These sites all played important roles in English colonial America.
At the Yorktown Battlefield Visitor Center begin your visit by viewing the 16 minute introductory film of the story of the Siege at Yorktown. Explore the museum exhibit area that includes portions of the headquarter's tents George Washington used throughout the war, including while at Yorktown. Park Staff will answer questions and provide information about the park. There are usually ranger guided tours of the battlefield offered throughout the day and there may also be a tour of historic Yorktown available as well. The community of Yorktown is just a short walk from the visitor center and during the spring, summer and early autumn, free trolleys provide transportation through the town.During your visit explore the battlefield. There are two self-guided driving tour routes, for a total of 16 miles, so it is highly recommended that you bring your own vehicle when visiting. Maps of the driving tours are available at the Visitor Center. While here you may also want to visit some of the park's historic buildings; the 1730 Nelson House which still bears scars from the 1781 bombardment, the Moore House where the surrender terms were negotiated to end the 1781 siege and the National Cemetery Lodge with exhibits recounting Yorktown's Civil War history are often open throughout the year. (Check at the Visitor Center for hours).
We look forward to having you visit us at Yorktown Battlefield,


Last updated: January 10, 2016