Directions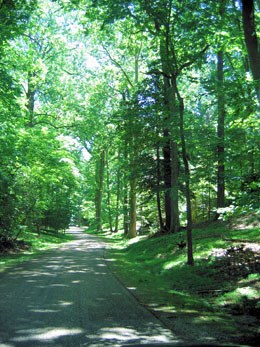 For an internet map search or GPS, use the following:
Yorktown Battlefield Visitor Center, 1000 Colonial Parkway, Yorktown, Virginia 23690.
Plane
To Park: From Newport News/Williamsburg International Airport (20 minutes from Yorktown), Norfolk International Airport (one hour east) and Richmond International Airport (one hour west) provide commercial air service.

Car

Colonial National Historical Park is located a short distance from Interstate 64 (I-64). Eastbound from the Richmond area via I-64, exit 242B for Yorktown, to the Colonial Parkway. Follow the parkway to its end. West bound Interstate 64 from the Virginia Beach/Norfolk/Hampton area for Yorktown should take Route 105 East (Fort Eustis Boulevard east), exit 250B to Route 17 (George Washington Memorial Highway). Turn left (North) onto Route 17. Follow the signs to the Yorktown Battlefield.
In Park: personal vehicles, bicycles (on paved surfaces only) and on foot. The Colonial Parkway (23 miles) connects the Yorktown and Jamestown units of the park.
Public Transportation
AMTRAK has stations in Newport News and Williamsburg. Greyhound has commercial bus service to Newport News and Williamsburg. Rental cars and taxi service are available from all of these locations.


Last updated: April 14, 2016