Trees and Shrubs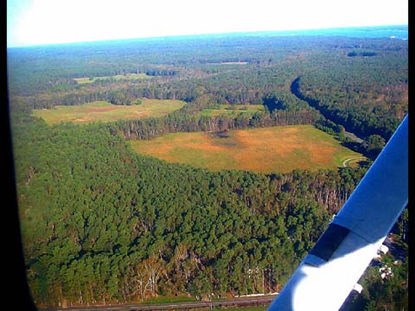 "I was one night in the trenches, erecting a bomb battery; the enemy, it being very dark, were directed in their firing by a large tree. I was ordered by our officers to take two or three men and fell the tree… The tree was very large and we were two hours in cutting it."
Private Joseph Plum Martin

At the 1781 Siege of Yorktown


Flowering dogwood (the state flower of Virginia) and the pink blooms of the eastern redbud dominate the roadsides and edges of fields in early spring.
Early settlers were attracted to the heavy forests of pine, oak, maple and beeches which furnished wood for tools and homes. The colonists prized the abundant red cedar for cabins and tools while Native Americans built canoes from sycamores and extracted medicines from the wild black cherry and other plants. The forest, fields and marshes provided an important source of seeds, nuts and berries for the wildlife, Native Americans and Colonists.
Almost year round visitors will observe some plant blooming in the park. From oaks to maples to pines to box elders, the park has a wide variety of trees and shrubs that serve as important habitats to animals, protect and enrich the soils of the park and serve as a source of visual pleasure to the visitor.


Last updated: February 26, 2015