Coasts / Shorelines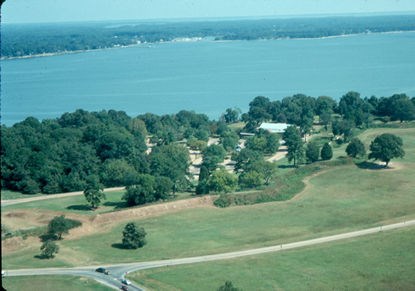 The park is situated along 30 miles of the James and York Rivers. These rivers are part of the larger tidally influenced Chesapeake Bay estuary. The Chespeake Bay estuary is the largest in the United States covering 64,000 square miles. The Bay has been the subject of a 20 year federal, state, local and private partnership to restore its vitality. For more information visit www.chesapeakebay.net. Parklands have a varying topography, which takes in both low-lying wetlands, ravines and terraces from sea-level to 120 feets above mean sea level.



Erosion is a significant process along the shorelines of the park. Much of the erosion results from storm induced wave activity plus impacts from recreational use. Shoreline erosion impacts the cultural resources of Jamestown Island, Glasshouse Point and Yorktown. The park in cooperation with the Virginia Institute of Marine Science (VIMS) and the US Army Corp of Engineers (Corp) conducted a shoreline conservation study of the 17 miles of park shoreline along the James River. The study has provided a better knowledge of the shoreline erosion process over the past decades. An environmental assessment was completed and the park working with the Corp and a contractor stabilized those areas experiencing the highest erosion rates while protecting significant cultural resources.



A similar study and plan for the 14 miles of the park shoreline along the York River is being developed by VIMS.


Last updated: February 26, 2015