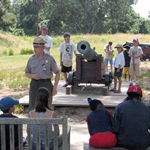 Jamestown and Yorktown Park Packs
Seven park packs that highlight different aspects of the Jamestown and Yorktown stories are available from the Williamsburg Regional Library. These packs are filled with books, videos and activities that relate to Jamestown archeology, famous people, nature, crafts, and industries and to the Revolutionary War at Yorktown.
Young Soldiers Program
Join a costumed Interpreter to learn about life as a soldier during the American Revolution. Program includes a hands on activity. The program occurs from mid-June to mid-August. Times for the program will vary depending on staffing.