Brigadier General Anthony Wayne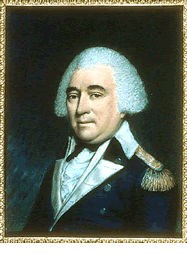 Wayne, Anthony. 1745-1796.
Born in Chester County, Pennsylvania, Anthony Wayne, after studying at the Academy in Philadelphia, became a surveyor. An avid reader of military history, he organized a militia company and was in the thick of the war from the time of his 1776 appointment as the colonel of the 4th Pennsylvania Battalion.
Daring and aggressive, Wayne quickly rose in responsibilities and commands. He quickly gained the nickname "Mad Anthony" for his audacity and outbursts of temper. In a brilliantly planned and executed attack on June 15, 1779, his 1300 men captured the British fort and garrison at Stony Point in the Hudson Highlands of New York. When the Pennsylvania Line mutinied in January, 1781, Wayne was instrumental as a mediator in settling the dispute.
In the spring of 1781, Wayne took his troops to Virginia and served under Lafayette in trying to thwart the British. On July 6, 1781, he fought with Lafayette at the Battle of Green Spring. His aggressive charge shocked the superior British forces, probably saving the Americans from destruction. Wayne then joined Washington to help defeat Cornwallis at Yorktown.
In 1782, Wayne was sent to Georgia to help dislodge the British forces there. After the war he returned to Pennsylvania and served in the Pennsylvania Assembly and became a delegate to the Constitutional Convention.
In 1792, Wayne led a successful expedition into the Ohio territory to pacify the Indians and eject the British. At the Battle of Fallen Timbers, in 1794, he won a decisive victory. Wayne died in Erie, Pennsylvania, on December 15, 1796.
Last updated: February 26, 2015