Baron von Steuben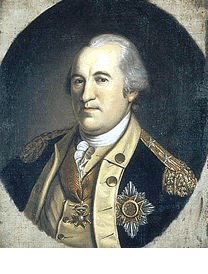 Steuben, Friedrich Wilhelm Augustin Von. 1730-1794.
Baron Von Steuben, as he was known in America, was literally born into the military. He was born while his father was an engineer lieutenant in the Prussian army stationed in the Magdebourg fortress. He joined the Prussian army himself at age 17 and served on the staff of Frederick the Great during the Seven Years War. He was, for unknown reasons, discharged from the army in 1763, having only attained the rank of captain.
Von Steuben later served as the chamberlain at the court of Hohenzollern-Hechingen where he attained the title "Baron". When his prince went deeply into debt, Steuben was forced to seek other employment. He failed at several attempts to join foreign armies (France, Austria, Baden). Von Steuben traveled to France where he hoped to meet Benjamin Franklin and offer his services to America.
He was introduced to Franklin as having been a lieutenant general in the Prussian army (actually only a captain). He secured a letter of recommendation from Benjamin Franklin to George Washington. He was assigned by Congress to Washington's forces in winter quarters at Valley Forge in 1777. Joining an army on the verge of dissolution, he set out to create an improved command structure, develop a training manual and establish a code of regulations.
Starting from scratch, he taught basic arms drill and formation movements. Through the winter and spring of 1778, he transformed the American army into a disciplined, effective fighting force. When Nathanial Greene was sent to command the Southern Department in 1780, Von Steuben was sent with him. He, however, stayed in Virginia where he helped organize recruits and supplies for Greene's army. Von Steuben went on to serve as one of the American divisional commanders during the Yorktown Campaign. He served in the American army until he was honorably discharged in 1784.
Last updated: February 26, 2015