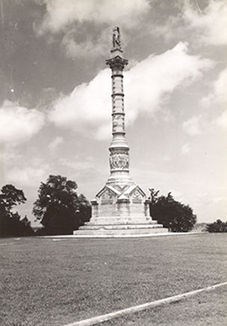 The monument was begun in 1881, the crowning figure set on August 12, 1884, and it was officially reported as complete, with a 12 foot wide granite pavement around it, all enclosed by a simple iron fence "to keep meddlesome people at a distance," by Lt. Col. William P. Craighill, Corps of U.S. Engineers, in a communication, dated January 5, 1885, to the Secretary of War. This in turn was transmitted to Congress. It was not until June 1890 that the Monument was officially inspected by a designated group who reported on the work that had been consummated. A special edition of a report on the construction of the Monument was authorized by a concurrant resolution of Congress in 1892. Of the specified five thousand copies, some two thousand, bound "in full leather," were to be earmarked for distribution to descendents of the French who fought at Yorktown. Lt. Col. William P. Craighill of the Army Engineers wrote in his completion report that:
The monument at Yorktown having been completed, it seems necessary to make provision for the accommodation of a watchman, as the location is isolated, and without some oversight this beautiful structure would soon be marred by relic hunters and other mischievous or inconsiderate persons.
For some time an enlisted man from the army was detailed as "keeper of the monument" but measures to secure a regular position for a watchman together with a keeper's house were not successful.
The present monument in its origin, in its design, and in its associations, is symbolic of the great victory which was achieved at Yorktown through the French-American alliance. Today, complete with its "emblems" and "inscriptions," as specified by the Congress in 1781 and again in 1880, it still stands after a century occupying a vantage point in Yorktown. It is "within the line of defense of Cornwallis" and, with its grounds, covers four original Yorktown lots, numbers 80-83. Some 98 feet high, it overlooks the wide harbor of the York River, from which it is visible, and forms a part of the familiar scene that is remembered by the many thousands who have seen it in the passing years. In this long span it has stood undisturbed and unchanged except for the severe damage to the figure of "Liberty" that came during an electrical storm on July 29, 1942.
Because of lightning damage, it was necessary to replace "Liberty" and a commission for the new figure was given to Sculptor Oskar J.W. Hansen. The completed work was placed in 1956. At the same time lightning protection was added to the shaft which was thoroughly cleaned and repointed. This work on the Monument to the Alliance and Victory was completed in time for the annual Yorktown day exercise in 1957.
In 1990, "Liberty" was again struck by lightning, suffering damage to the figure's hands and torso. Repairs were made that same year and the lightning rod system was upgraded.
Today the monument still stands as a fitting symbol to the French and American victory at Yorktown on October 19, 1781 - a victory that resulted in American Independence.