Comte de Rochambeau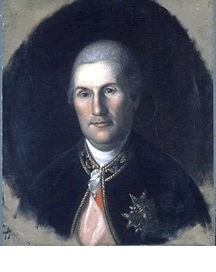 Rochambeau, Jean Baptiste Donatien de Vimeur, Comte de. 1725-1807.
Jean Baptiste Donatien de Vimeur, Comte de Rochambeau, was born in Vendome, France, the youngest son of an old aristocratic family. He was commissioned in the French army at age 17 and devoted himself to his military studies. Rochambeau eventually gained a reputation as a fine leader, administrator, and strategist.
In March 1780, Rochambeau was selected by French King Louis XVI to command the army being sent to America. He was given orders to cooperate with General Washington. Rochambeau's patience and discretion made him an excellent choice. Surmounting the daunting logistical difficulties of moving 5,500 men across the Atlantic Ocean, Rochambeau arrived at Newport, Rhode Island, in July 1780. He established a good rapport with Washington and the local population.
In August 1781, Rochambeau joined Washington for the journey to Yorktown. Rochambeau commanded the French forces while Washington commanded the combined American and French army. Rochambeau, a veteran of 14 sieges in Europe, provided valuable expertise in the conducting of the siege at Yorktown. The success at Yorktown was very much a result of this expertise and his leadership skills.
Rochambeau returned to France a hero and resumed his military duties. He remained politically neutral during the French Revolution. However, he was briefly imprisoned as a "suspect" in 1794. When released, he retired to his estates and enjoyed official honor and respect until his death in 1807.
Last updated: February 26, 2015