Major General Benjamin Lincoln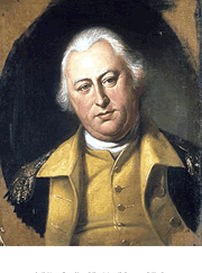 Lincoln, Benjamin. 1733-1810.
Town clerk and justice of the peace in Hingham, Massachusetts, Benjamin Lincoln was also a leader of the county militia prior to and in the early years of the war. After serving in the Northern Theater, Lincoln was appointed commander of the Southern Army. He sparred with British forces for 18 months before being ordered to defend Charleston, South Carolina, at all costs. He held out for six weeks before finally being forced to accept harsh terms for the surrender of his army and the city in May 1780.
Lincoln was paroled and exchanged later that same year. He rejoined the army and commanded one of Washington's three divisions for the Yorktown campaign. He was also overall commander of the American wing of the Allied army. As second in command of the American forces, Lincoln accepted the surrender sword from British General O'Hara, Cornwallis' second in command.
Lincoln was appointed Secretary of War on October 30, 1781. He held the position until the end of the war in 1783. After the war, he held a variety of state and Federal posts until retiring from public life in March 1809. He returned to his hometown of Hingham where he died the following year.
Last updated: February 26, 2015