Lieutenant Colonel John Laurens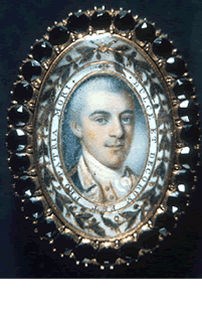 Laurens, John. 1754-1782.
"This is a harsh article" complained the officer, resplendent in red coat, sash, gorget, and epaulets.
"Yes, it is"
So replied Lieutenant Colonel John Laurens as the British negotiators attepted to dispute the surrender terms of the Battle of Yorktown.
Laurens, from South Carolina, was attending college in England when the war broke out. He returned to America and quickly gained a commission in the Continental Army, fighting at Brandywine, Monmouth, Savannah and other battles. He eventually was appointed Aide-de-camp to George Washington. In 1780 he served as a special envoy to assist Benjamin Franklin in Paris, and helped negotiate a large loan from France. Returning to America, Laurens rejoined Washington in time for the Yorktown campaign where he joined Alexander Hamilton, and others, in the capture of Redoubt 10.
On October 18th, Laurens served as the American commissioner at the Moore House to work out the terms for Cornwallis' surrender. Washington's instructions to Laurens were to offer Cornwallis the same terms that the Continental forces had received at Charleston in 1780. Collectively, the terms implied poor leadership and mediocre military performance. The British were especially upset about the requirement for "flags cased and beating a British or a German march". Hours of argument proved fruitless. Perhaps if the British commissioners had known that Laurens' father, former president of the Continental Congress Henry Laurens, was currently being held a prisoner in the Tower of London, they would not have wasted their time arguing with the son.
After Yorktown, Laurens' promising future was cut short on August 25, 1782, by British gunfire at Combahee Ferry, South Carolina, which was one of the last skirmishes of the war.
Last updated: February 26, 2015