Colonel John Lamb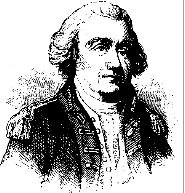 Lamb, John. 1735-1800.
An example of the potential success in America for those of talent was Lieutenant Colonel John Lamb, who, at Yorktown, was second in command of the American artillery forces.
Lamb's father had been convicted of burglary in England and then transported to America. He then moved to New York City and became a respectable businessman and citizen. John Lamb started in his father's optical business, then became a successful wine merchant. Prior to the war, Lamb was a vocal and active anti-British agitator.
In July 1776, Lamb raised an artillery company which later joined General Montgomery's ill-fated expedition to conquer Canada. In the assault on Quebec, Lamb was wounded and captured. He was paroled and exchanged and then returned to duty as the commander of the new Second Continental Artillery Regiment. Lamb was also put in charge of organizing the manufacturing and technical sections of the ordnance bureau.
Probably the highlight of Lamb's service was at Yorktown, where he commanded the major portion of the American artillery forces. His technical training paid off as his gunners poured a devastating barrage into the British-held town. This artillery fire helped force Cornwallis to surrender under humiliating terms. Washington singled out Lamb and his artillerists for special commendation, due to their superior services.
Promoted to Brigadier General, Lamb returned to New York City after the war. He would go on to serve in the state legislature. Opposed to the Constitution, Lamb nonetheless accepted the post of federal customs collector in New York under President Washington. When the chief clerk embezzled a huge sum, Lamb sold his property to make good the loss. As a result, he died in poverty a few years later.
Last updated: February 26, 2015